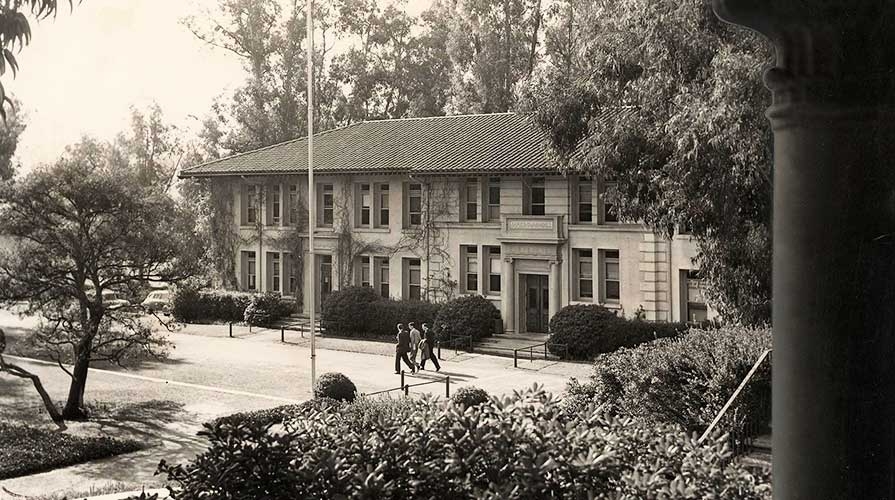 Founded in 1887—before Los Angeles had its first paved street, saw its first automobile, or made its first movie—Occidental is L.A.'s first and only liberal arts college.
Like many small schools, we struggled early on. Our only building burned down in 1896, we moved four times in less than 30 years, and at times barely managed to pay our bills. But we persevered to become one of the country's top liberal arts colleges. While much has changed over the past 130 years, there are several themes that run throughout our history:
Engaged with Los Angeles
In 1947, Oxy students were interning in Los Angeles public schools, at city hall and with the Probation Department as part of what the College then called "bringing the world into the classroom." Our long history of community partnerships dates back to the mid-1960s, when the College opened its Community Literacy Center and one of the country's first Upward Bound programs—what is today one of the largest and most successful programs in California.
Producing Global Citizens
As early as 1910, the year Ki Rhee Lee received his degree as our first Asian-American graduate, almost 10 percent of alumni had foreign addresses. In 1916, we became one of the first colleges in the United States to offer courses in Asian politics and history. That same year, we began our first overseas study program. Our renowned diplomacy and world affairs program was launched in 1957, and our unique residential United Nations program in New York was born in 1986.
Providing Access
Oxy has always been an institution that recruited talent regardless of a student's background. In 1916, the Los Angeles Times reported that one-third of our students were working their way through college as farm laborers, elevator operators, mail carriers, janitors, waiters, cooks, dishwashers and electricians. A decade later, "Literally hundreds of students had to be subsidized by the college with scholarships, grants and loans to be able to enter and stay in school—even though tuition was less than $300," remembered Agnes Nohrnberg '29, who as a student worked for the chairman of the faculty committee on student scholarships.
Striving to Win
One of the founders of intercollegiate sports in Southern California, Occidental kicked off the region's oldest sports rivalry in 1895 when we beat Pomona College at football 16-0. (That same year we shut down USC 10-0.) Since then we have won more than 250 conference championships in multiple sports and produced 21 Olympic athletes who won a total of 10 medals. (If Oxy was a country, we would be tied with Pakistan, Tunisia and Uruguay in Olympic medal production.)
Small But Mighty
Oxy alumni helped create the computer disc drive and streaming audio and video; pioneered the use of the EKG; and developed more effective treatments for multiple sclerosis. They helped overthrow China's Manchu dynasty, negotiate the SALT treaty with the Soviet Union, invent the system of simultaneous translation used at the U.N., and pioneer a system to protect the Earth from asteroids. Oxy alumni have won Pulitzers, Oscars, Tonys, and Emmys; the National Medal of the Arts, the National Medal of Science, the Presidential Medal of Freedom, and the O'Hara Poetry Prize; the Navy Cross, the Distinguished Service Cross, and even the Nobel Peace Prize.