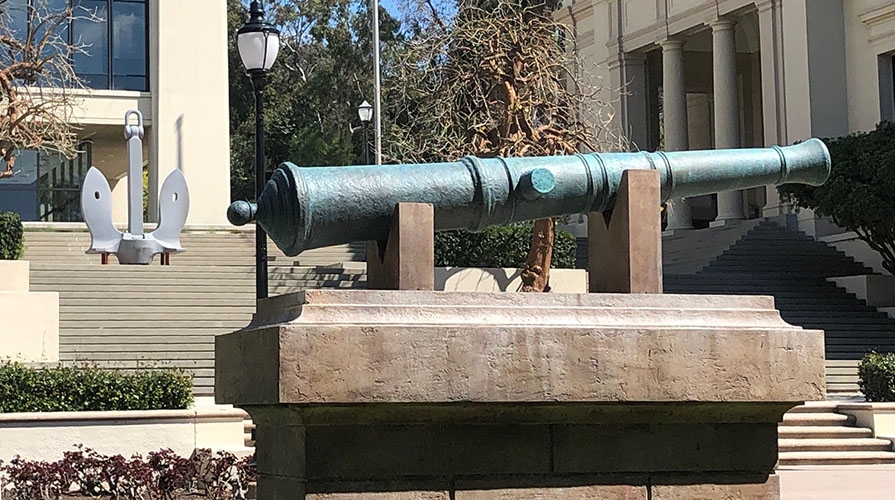 Lights! Camera! Oxy! From the Marx Brothers to the Wayans Brothers, the Oxy campus is a mecca for Hollywood filmmakers.
Photo caption: a picture of campus set up to look like the Naval Academy from the NCIS shoot in March 2019.
Five years after the dawn of talkies, the Marx Brothers descended on Patterson Field in a horse-drawn garbage-can chariot in Horse Feathers. Oxy has doubled as the setting for colleges real (Stanford, Princeton, Texas State University) and fictitious (Southern Ohio University). We've even been the planet Vulcan (in Star Trek III: The Search for Spock).
From 1993 to 1997, the cast and crew of Beverly Hills 90210 were frequent visitors to Occidental, aka California University. More recently, Oxy has taken on the roles of the U.S. Naval Academy; a science museum in Washington, D.C.; and the U.S. Embassy in Belgravia for TV's No. 1 drama, NCIS (which returned to campus in 2019, eight years after its initial visit).
A partial list of television credits also includes Snowfall (2019), The Romanoffs and Here and Now (2018), Lethal Weapon (2017), The Good Place and Sweet/Vicious (2016), Criminal Minds (2015, 2007), Major Crimes and Training Day (2015), Parenthood (2011, 2014), Awkward and Switched at Birth (2014), King of the Nerds (2013, 2014), Glee, Ray Donovan and True Blood (2013), Arrested Development and CSI (2012), Switched at Birth (2011), Law & Order: Los Angeles (2010), Monk (2009), Eli Stone (2008), The Riches (2007), The L Word (2006), and The West Wing (2002).
Oxy's film credits include:
The Kids Are All Right (2010) with Annette Bening and Julianne Moore (Bening returned to campus—playing an Occidental professor, no less—in The Face of Love in 2013)
Made of Honor (2008) with Patrick Dempsey
The Holiday (2006) with Kate Winslet and Jack Black
Orange County (2002) with Colin Hanks and Jack Black
Jurassic Park III (2001) with Sam Neill
Don't Be a Menace to South Central While Drinking Your Juice in the Hood (1996) with the Wayans Brothers
Clueless (1995) with Alicia Silverstone
Sneakers (1992) with Robert Redford
Real Genius (1985) with Val Kilmer
Irreconcilable Differences (1984) with Ryan O'Neal and Shelley Long
The One and Only (1978) with Henry Winkler
The Impossible Years (1968) with David Niven
Take Her, She's Mine (1963) with Jimmy Stewart
Zotz! (1962) with Tom Poston and Julia Meade
Tall Story (1960) with Jane Fonda and Anthony Perkins
Pat and Mike (1952) with Katharine Hepburn and Spencer Tracy
Goodbye, My Fancy (1951) with Joan Crawford and Robert Young
That's My Boy (1951) with Dean Martin and Jerry Lewis
That Hagen Girl (1947) with Shirley Temple and Ronald Reagan
Second Chorus (1941) with Fred Astaire ("the worst movie I ever made")
Life Begins in College (1937) with the Ritz Brothers
Pigskin Parade (1936) with Judy Garland (her screen debut) and Betty Grable
The College Hero (1927) with Ben Turpin