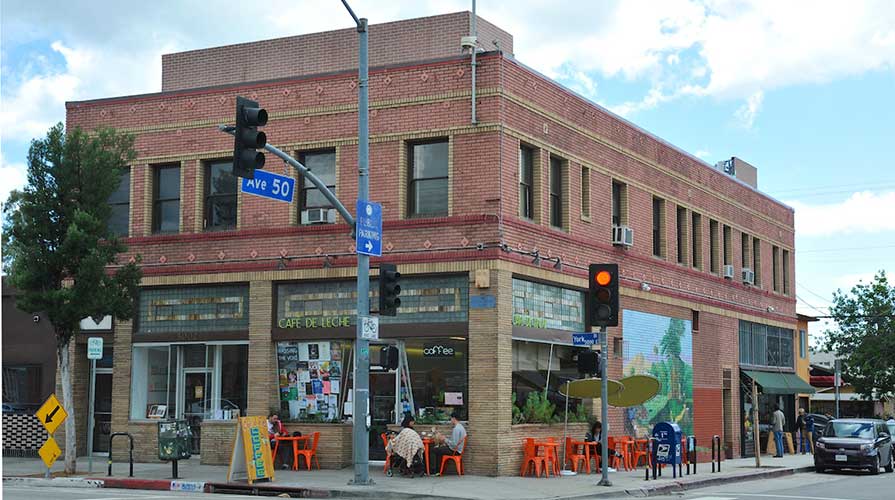 Occidental College is right in the middle of the burgeoning scene of Northeast Los Angeles.
Oxy sits in Northeast Los Angeles, on the border between Eagle Rock and Highland Park, two neighborhoods that reflect the eclectic nature of Los Angeles. Critically acclaimed restaurants, cozy coffeehouses and vintage boutiques share the boulevards with Mom-and-Pop markets and no-nonsense boxing gyms.
To the north of campus, Eagle Rock—named after the huge dome of sandstone that looms over the 134 Freeway—is home to the annual Eagle Rock Music Festival, L.A.'s largest independent music festival. Check out the glow-in-the-dark bowling at All Star Lanes, or a yoga class at Mockingbird Yoga.
To the south is Highland Park, which LA Weekly deemed the greatest neighborhood in Los Angeles. Take a stroll down the main drag, York Boulevard, and you'll know why. Enjoy Scoops ice cream (we recommend salted chocolate) while sitting on a bench in the newly created parklet, or browse the unique furniture, clothing and music stores. On the second Saturday of each month Angelenos from around the city converge on Highland Park for the NELA Artwalk, which is a great opportunity to get to know local artists and galleries.
If you want to know more about our surrounding community, you can learn from the students themselves. As part of the Youth Voices series with local public television station KCET, students from Professor Jan Lin's Urban Sociology course have conducted interviews with influential local personalities.