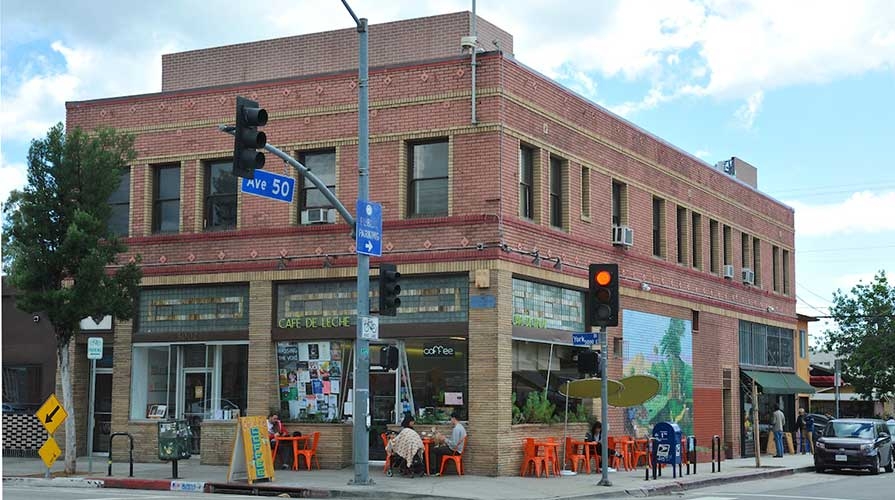 Occidental College is centrally located within the vibrant scene of Northeast Los Angeles.
Oxy's campus is located in Northeast Los Angeles, on the border between Eagle Rock and Highland Park, two neighborhoods that reflect the eclectic nature of the city. Nationally lauded restaurants, cozy coffeehouses and vintage boutiques share the boulevards with Mom-and-Pop markets and no-nonsense boxing gyms.
To the north of campus, Eagle Rock—named after the form visible in the huge dome of sandstone looming over the 134 Freeway—is home to the annual Eagle Rock Music Festival. Browse among the cool shops and sample the eateries on Colorado and York Boulevards; check out the glow-in-the-dark bowling at All Star Lanes, or take a yoga class at One Down Dog.
To the southeast is Highland Park, where residential streets blend with a walkable urban culture. You'll find unique furniture, clothing shops, music stores and a burgeoning nightlife scene. On the second Saturday of each month, check out the NELA Art Gallery Night, a great opportunity to get to know local artists. Take a tour of Judson Studios, where skilled craftsmen design and fabricate stained glass, and don't miss the steampunk stylings at the recently restored Highland Park Bowl. So is it the coolest neighborhood in the world? That's what TimeOut said in 2018.