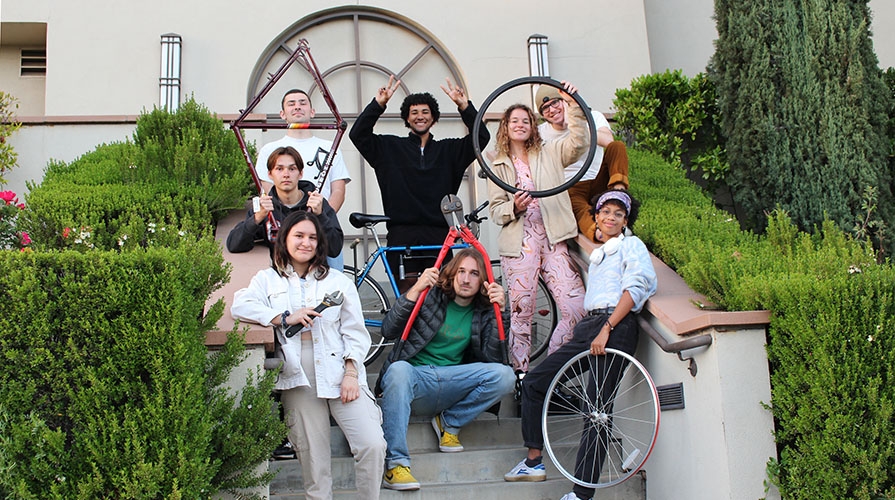 Is your bike on the fritz? Does your cherished ride need a tune up? Want to rent a bike for a week?
What We Do
Bike Share is a sustainable initiative that provides free week-long bike rentals and low-cost bike repairs for the Oxy community. We aim to foster community engagement through biking, group rides, and community events as well as facilitate safe storage for bikes on campus.
Most often we can be found on the Quad, in the Berkus Cage, the Bengal Room, or the Concession Stand! Come talk to us about anything bikes, wheels, or LA!
Mission Statement
Bike Share aims to provide every student agency through wheels. This may look like having an affordable way to commute around LA, explore the city without a car, or ride through LA with friends.
We also have strong community values that include sustainable transportation, collaborative leadership and decision making, empowering students to ride bikes, and community participation and outreach. Within our team, we emphasize friendship and teamwork to create innovative projects.
Hours
Our rental location (either the Quad or the Bengal Room in the JSC) is subject to change. Please check our Instagram at @oxybikeshare for updated hours and rental schedule.
Past Projects
We recently released our first ever Zine! The theme was WHEELS. Check it out.
Socials & Contact
If you are trying to reach us please DM our Instagram at @oxybikeshare or via email: bikes@oxy.edu. We will do our best to get back to you ASAP. Follow our Instagram for updates on events and group rides!