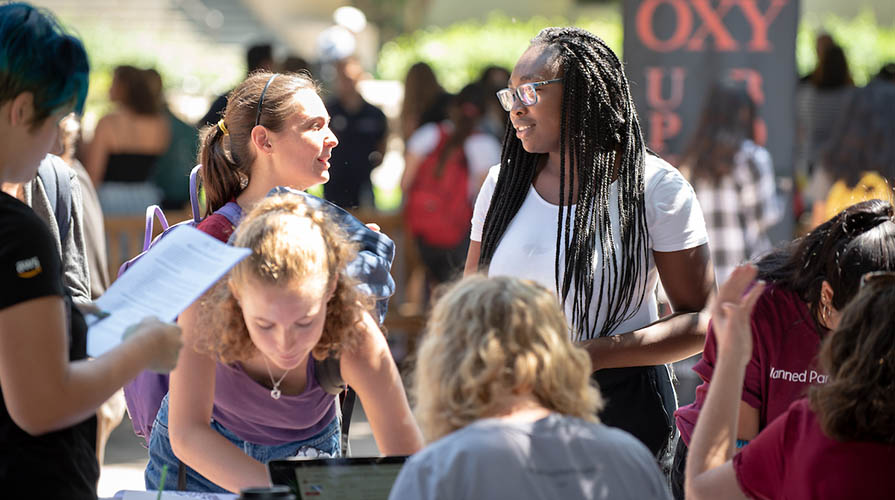 The Involvement Fair is a long-standing tradition at Oxy. This fall, we're going virtual on Thursday, August 27 from 11 am to 2 pm PDT.
This event is an opportunity for clubs and organizations to share information and engage with students who are interested in getting involved. Visit the different orgs, meet new people, or reconnect with folks you haven't seen all summer.
Just click on any of the iFair Club Tabs for a direct link to their Zoom room. Jump in and out, visiting as many rooms as you want from 11 am to 2 pm PDT.
The Involvement Fair can give you a sense of who does what on campus and what the coming year has to offer. It's the best place for you to comprehensively explore different options for getting involved on campus.
2 Paws Up Sketch Comedy
AATP: Asian American Tutorial Project
Active Minds
Alpha Lambda Phi Alpha Sorority
Armenian Students Association
ASOC Diversity and Equity Board (DEB)
ASOC Senate
Azúcar
Biology Club
Black Student Alliance
Boundless Brilliance
Challah for Hunger
Club Volleyball 
Coding&&Community 
華心 · CSA 
Dance Production
Delta Omicron Tau
Detox | Men's Frisbee
Economics Student Association
Fantastiprov
FEAST
First Gen Club
Foodies of Oxy
Geology Club
Global Medical Mission Alliance
Habitat for Humanity
Hawaii Club
InterVarsity Christian Fellowship
Japanese Cultural Organization
Japanese Popular Culture Research Society
Korean American Student Association
Latinx Student Union
Multicultural Club
Muslim Student Assocation
Newman Catholic Community
Occidental College Hillel
Occidental Dance Team
Occidental Democrats
Occidental Law Society
Occidental Model United Nations
oSTEM (Out in STEM) Club
Oxy Design Service (ODS)
Oxy Financial Literacy Club
Oxy.GG - Oxy Gaming Guild
Oxy Mens Rugby
Oxy Open Source
Oxy Skin
Oxy Sneaker Service
Peer Health Exchange
Periodic Baking
Planned Parenthood Club
Pre-Health Student Association
Project SAFE
PULSE Club
PUSO (Pilipino United Students Organization)
Sexuality and Gender Acceptance (SAGA)
Sigma Lambda Gamma National Sorority, Inc. 
South Asian Student Association (SASA)
Students for Justice in Palestine
Students of Kinesiology
Students for Sensible Drug Policy
Sunrise Movement at Oxy
The Occidental newspaper
The Renewable Energy and Sustainability Fund
Transfer Student Union
Women Inspiring iNner Kindness (WINK)
Women of Economics
Women's Ultimate Frisbee (WAC)
Womxn's Rugby
Writing Center
WYSE - Women and Youth Supporting Each Other
Zeta Tau Zeta
Thanks so much for visiting with our student leaders! If you have any questions or need addtional support, please email mrodriguez6@oxy.edu