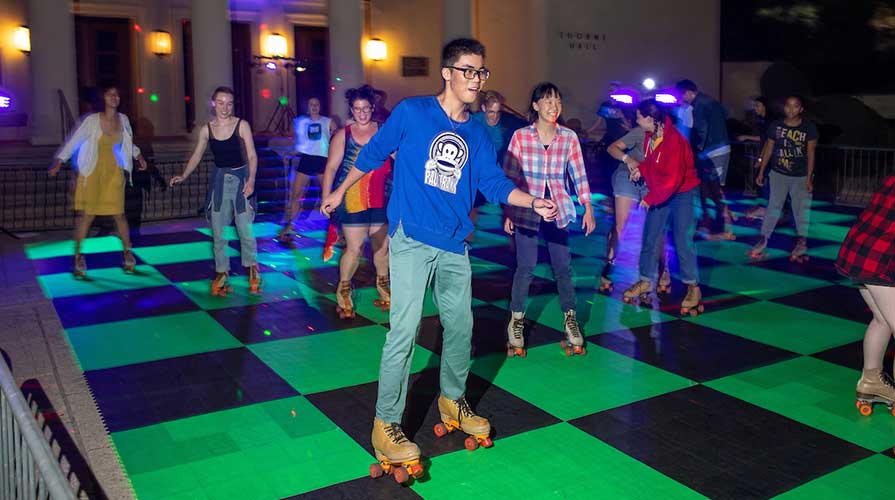 From developing the idea to reserving spaces and services, publicizing and evaluating your event—Student Leadership, Involvement & Community Engagement (SLICE) is here to help.
Program Ideation
What do you want to do? What do you envision your program to be? Think about the following to help pinpoint your vision:
What is the concept for your event? What do you want the final product to look/feel/smell/sound, etc.?
What goals do you have for your event?
What are the logistics you need to consider?

Time of day/time of year
Estimated attendance - space considerations
Indoor vs. outdoor
Equipment
Catering
Decorations

How will you judge if your event was a success?
Meet with a SLICE Program Coordinator to Register Your Event
Any student organization event not registered with SLICE is considered unauthorized by the College. To avoid that, our Program Coordinators will talk you through any relevant policies and connect you with valuable resources. This is where you actually reserve your space and all of the items you want for your event. They'll ask you a bunch of questions to try to help you make sure your bases are covered. During that time you may be invited to attend a CEAC (Campus Events Advisory Committee) meeting if your event is especially large or complex. PCs can also get the site plans, contracts, and/or waivers that you need drawn up.
Publicize your event
Now go out and tell everyone you know and see about this great event you're hosting. Make sure to use a variety of methods (not just a Facebook event) to capture as broad an audience as possible. Talk to faculty as well. They can be great for helping spread the word about events that are related to their classes. Remember the posting policy, but spread the word far and wide.
Host your event
This is the truly fun part - having your event! It doesn't mean, however, that there isn't work to be done - setting up and decorating, troubleshooting anything that comes up, staffing the event, cleaning up the event, etc. Fortunately though, if you have enough people working your event from your organization, the work won't be unbearable and you can have fun while doing it.
Evaluate the event
Make sure that you take time to sit down with the other event planners (and maybe any speakers or vendors you used) to talk about what worked and what didn't. Then write that information down to share with future members of your group. If the event was an annual event it's even more important, but anything you learn from putting on an event can be helpful to future leaders of your club when they want to put on events of their own.