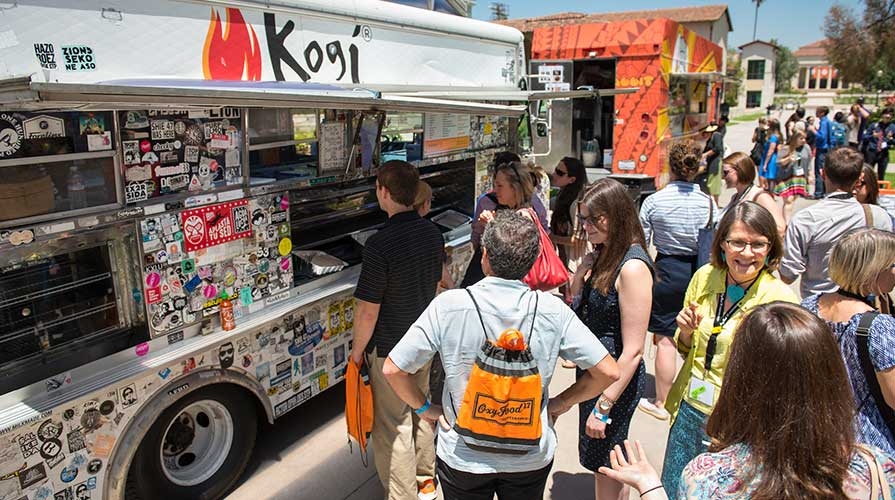 Occidental hosts a number of a number of events relating to food issues, from talks given by well-known speakers to a month of activities dedicated to Food Justice.
Recurring Events
Taste of Oxy is an annual event, bringing together students at Occidental over diverse types of foods.
Well Fed, a student organization at Occidental, puts on Oxy Iron Chef in the spring to celebrate healthy and organic foods. Competitors are challenged to create a meal using local vegetables in under an hour.
October is Food Justice Month at Occidental. Last year, there was a Food Stamp Challenge, a Food Day celebration, a talk on school food, and other exciting events. 
Other Initiatives
Occidental has also helped spearhead food-related initiatives in Los Angeles, including the Urban and Environmental Policy Institute's nationally recognized Farm to Preschool program.
California Farm to School
"Bringing Healthy Food From Local Farms to California's Schools! Providing students with farm‐fresh and locally grown food choices is the focal point of farm to school programs."

Farm to School
"Since its origins in 1997 when UEPI helped establish one of the first farm to school programs in the country, the farm to school idea, currently facilitated and expanded through the National Farm to School Network, has turned into a major success story in its efforts to transform the school food environment."

Farm to Preschool
"The Farm to Preschool Program began as a two-year pilot program in 2009 and is continuing to expand. It is designed to influence early childhood eating habits and expand the farm to school network of programs to bring farm fresh foods to a range of child care and preschool programs in underserved areas of Los Angeles and San Diego counties."

Farm to WIC
"The Farm to WIC program aims to improve the health and vitality of local communities by providing access to high quality, seasonal produce for low-income families while expanding market opportunities for small and medium-scale local farms."

Grocery Accountability Project
"The Grocery Accountability Project (GAP) engages in research, policy development, and coalition-building work around the food retail sector. The goal of the GAP is to ratchet up the performance and accountability of food retail corporations in five critical areas."

Healthy School Food Coalition
"The Healthy School Food Coalition is a group of committed parents, teachers, students and community members working to develop and support comprehensive food and nutrition policies in the Los Angeles Unified School District."

Sustainable Oxy
"Sustainable Oxy works to make Occidental College a more environmentally sustainable place."