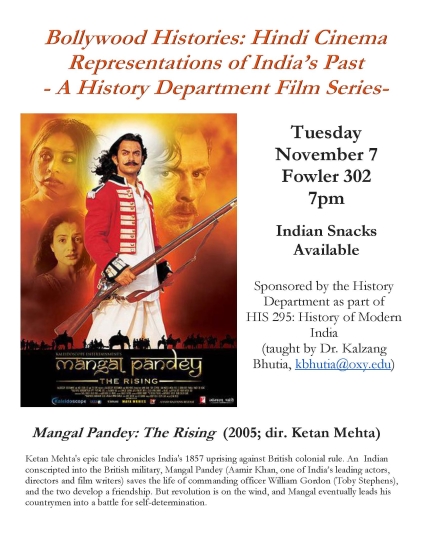 Bollywood's representation of India's Past​This film series is sponsored by the History Department as part of HIST 295: History of Modern India, taught by Dr. Kalzang Bhutia. Indian snacks will be available for munching during the film screening!! 
Mangal Pandey: The Rising  (2005; dir. Ketan Mehta)
Ketan Mehta's epic tale chronicles India's 1857 uprising against British colonial rule. An  Indian conscripted into the British military, Mangal Pandey (Aamir Khan, one of India's leading actors, directors and film writers) saves the life of commanding officer William Gordon (Toby Stephens), and the two develop a friendship. But revolution is on the wind, and Mangal eventually leads his countrymen into a battle for self-determination.