Start your college education with a common reading experience.
For decades, the Core Program has asked incoming Oxy students to engage with a Summer Reading before they matriculate in the Fall. In assigning this common reading, our goals have been to stimulate discussion and promote critical thinking on topics of contemporary relevance; to help introduce students to the Mission of the College; and to provide a way for new students to connect with one another through a common intellectual experience. In recent years, the Summer Reading Program has joined with the Community Book Program to allow the entire Occidental community to participate.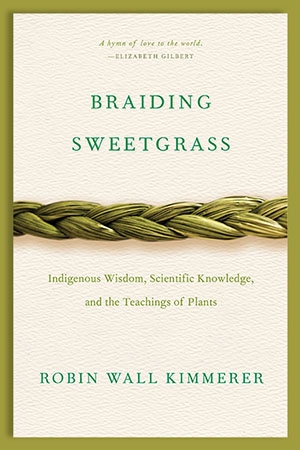 For 2023, we have selected Braiding Sweetgrass: Indigenous Wisdom, Scientific Knowledge, and the Teaching of Plants by Robin Wall Kimmerer. Braiding Sweetgrass is about the role of Indigenous knowledge as an alternative or complementary approach to Western mainstream scientific methodologies. The book explores reciprocal relationships between humans and the land, with a focus on the role of plants and botany in both Native American and Western traditions. 
Robin Wall Kimmerer is a mother, scientist, decorated professor, and enrolled member of the Citizen Potawatomi Nation. In addition to Braiding Sweetgrass, she is the author of  Gathering Moss: A Natural and Cultural History of Mosses . She lives in Syracuse, New York, where she is a SUNY Distinguished Teaching Professor of Environmental Biology. She is also the founder and director of the Center for Native Peoples and the Environment.
All first-year students will be expected to read Braiding Sweetgrass prior to the beginning of August. There will be discussions about the book during New Student Orientation. Students can request a free e-book by sending an email to communitybook@oxy.edu; you'll be sent a code allowing you to download your copy at no charge.