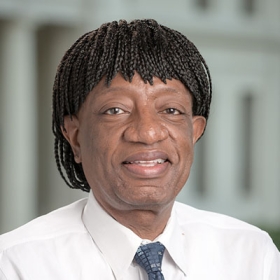 Professor, Spanish and French Studies; Affiliated Faculty, Black Studies; Advisory Committee, Group Language
B.A., Swarthmore College; M.A., Ph.D., Johns Hopkins University
Hours:
M/W/F 12:00-1:00pm and F 1:00-3:00pm and by appt.
While his earlier teaching and research centered on the Francophone literatures of the Caribbean and West Africa, Arthur Saint-Aubin currently teaches courses in the theory and practice of translation.
His current research interests include the legacy of the Haitian Revolution and representations of masculinity and race in contemporary cultural productions, including rock music and lyrics and the rock and roll memoir. 
His research explores theories of gender and specifically the intersection of masculinity, heterosexuality, and whiteness in literature and the other arts. His most recent books are The Pleasures of Death: Kurt Cobain's Masochistic and Melancholic Persona (2020) and The Memoirs of Toussaint and Isaac Louverture: Representing the Black Masculine Subject in Narratives of Mourning and Loss (2015)