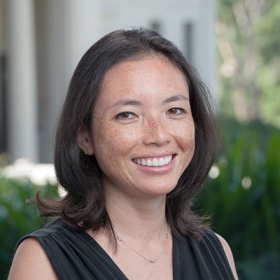 Associate Professor, Biology; Advisory Committee, Biochemistry; Steering Committee, Public Health
B.A. Pomona College; Ph.D. UCLA
Office:
Bioscience 200B. In person office hours held at the front of Bioscience.
Hours:
Monday 11:00am-12:00pm (in person), Wednesday 1:00pm-2:00pm via Zoom (please contact for details), Thursday 9:30am-10:30am via Zoom (please contact for details), and by appointment.
Cheryl Okumura teaches Public Health Biology, Introduction to Cell and Molecular Biology and Microbial Pathogenesis.
Her research focuses on host-pathogen interactions. Specifically, she studies cell biologic responses to infectious bacteria using a variety of molecular and genetic approaches. Her research examines diverse processes of the host cell such as gene regulation, signal transduction, apoptosis and autophagy in the response to infections produced by the bacterial pathogens Group A Streptococcus and Straphylococcus aureus.