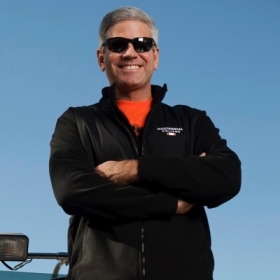 Professor, Biology; Director, Vantuna Research Group
A.B., M.A., Occidental College; Ph.D., UCLA
Office
Moore Lab of Zoology 150A
Hours
Thursday 1:30pm-4:30pm
Dan Pondella teaches the biology of marine fishes, biodiversity of marine ecosystems, and biological oceanography.
Research Interests: the ecology of California marine fishes, with an emphasis on the Southern California Bight, the evolution of marine fishes in the tropical eastern Pacific, and the life history of fishes, including species from the Gulf of California.
Dan's research has been funded by the Sea Grant, California Department of Fish and Wildlife, the U.S. Navy, the Port of Los Angeles, National Science Foundation, and several other agencies and foundations. He has authored or co-authored over one hundred technical reports and peer-reviewed publications while at Occidental in journals such as the Bulletin of Marine Science, the ICES Journal of Marine Science, and Molecular Phylogenetics and Evolution. He also recently published a book titled The Ecology of Marine Fishes: California and Adjacent Waters. His current work in the region includes projects on the Palos Verdes shelf including assessing kelp restoration success, designing, permitting and implementing a 70-acre rocky-reef restoration project at Bunker Point and the baseline assessment of the newly created Marine Protected Areas (MPAs). 
Dan is also director of the Southern California Marine Institute (SCMI), a consortium of 23 major universities, colleges, and foundations including Occidental that share and support marine resources. Currently he is working on AltaSea, a project which will transform City Dock 1 at the Port of Los Angeles into a 35-acre campus that will house SCMI, expand science-based understanding of the ocean, incubate and sustain ocean-related business, and pioneer new ocean-related education programs.