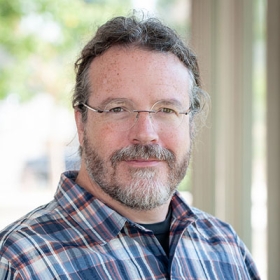 Associate Professor, Comparative Studies in Literature and Culture
B.A., University of Texas at Austin; M.St., Christ Church, Oxford; Ph.D., Princeton University
Department Chair, Comparative Studies in Literature & Culture
Hours
Thursdays 4:30pm-6:00PM
Jacob L. Mackey specializes in Greek and Latin languages and literature, ancient religions, ancient childhood, and approaches to ancient cultures that are informed by the cognitive sciences.
 
Jacob L. Mackey, Associate Professor of Classics in the Comparative Studies in Literature and Culture department, grew up in south India and Austin, TX. In India, he spent his childhood in an ashram in an authoritarian cult, an experience that left him wary of institutional practices designed to "discipline the subject" through techniques of surveillance, confession, and punishment. In Austin, before going to college and embarking on an academic career, he spent 15 years working in minimum wage jobs, an experience that left him skeptical of the self-legitimating ideologies of elite "manager" classes, which often function to justify their privileged economic status. He spends a good deal of his time when he's not teaching and writing looking for credible assessments of and real solutions to our most pressing social problems.
Jacob Mackey writes on Greek and Latin literature but his primary academic work employs theories and findings from the cognitive sciences in order to understand and explain ancient Roman culture. His publications in this area include "Roman ritual orthopraxy and overimitation," in The Routledge Handbook of Classics and Cognitive Theory, as well as "Developmental psychologies in the Roman world: Change and continuity," in History of Psychology, and also "Das Erlöschen des Glaubens: The Fate of 'Belief' in the Study of Roman Religion," in Phasis. His book Belief and Cult: From Intuitions to Institutions in Roman Religion appeared with Princeton University Press in 2022. He received his B.A. from the University of Texas at Austin, his M.St. from Christ Church, Oxford, and his Ph.D. from Princeton.