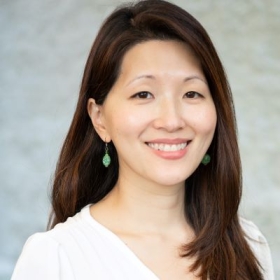 Associate Professor, History
B.A. Yale University; A.M., Brown University; A.M., Ph.D., Harvard University
Hours
Monday 3:00-4:00pm and Wednesday 11:30am-12:30pm, 3:00-4:00pm
Jane Hong is a historian of U.S. immigration and engagement with the world, with a focus on Asia after World War II. 
Hong is an associate professor of modern U.S. history and the author of Opening the Gates to Asia: A Transpacific History of How America Repealed Asian Exclusion (University of North Carolina Press, 2019). She serves on the editorial board of the Journal of American History, the executive board of the Immigration and Ethnic History Society, and the Gilder-Lehrman Scholarly Advisory Board. A public-facing historian, she appears in two episodes of the Peabody Award-winning PBS docuseries, Asian Americans (2020), and the PBS World documentary Far East Deep South (2021). An active public speaker, Hong has presented at Uber, the Brookings Institution, CohnReznick, Analysis Group, and the Leadership Council on Legal Diversity, in addition to academic and faith-based venues. She is committed to bridging academic and public history. Her work in this area includes leading K-12 teacher seminars for the Gilder-Lehrman Institute of American History, consulting for television programs including Finding Your Roots with Henry Louis Gates, Jr. and American Idol, and penning op-eds for the Washington Post and the Los Angeles Times. 
Hong's first book, Opening the Gates to Asia: A Transpacific History of How America Repealed Asian Exclusion (University of North Carolina Press, 2019), situates the transnational movement to repeal America's Asian exclusion laws in the context of black civil rights struggles at home and U.S. military intervention in a decolonizing Asia. It argues that repeal was part of the price of America's postwar empire in Asia. Even as the United States expanded its power over Asian peoples, the demands of building and sustaining this imperial reach compelled U.S. officials to respond to the antiracist and anticolonial demands of nonwhite peoples—if only in the most symbolic and performative ways. A multi-archival study, the book draws upon research conducted in the United States, India, and the Philippines.
Hong's current book project (under contract with Oxford University Press) uses the history of Asian American evangelicals as a lens to explore intersections of race, religion, and politics since the 1970s. Model Christians, Model Minorities: Asian Americans, Race, and Politics in the Transformation of U.S. Evangelicalism (title tentative) considers how post-1965 Asian immigration has changed U.S. evangelical institutions and politics. Asian Americans are the fastest growing racial group in the country. They are also one of the fastest growing populations within U.S. evangelicalism. Today Asian Americans lead the National Association of Evangelicals, InterVarsity Christian Fellowship, and Evangelicals (now, Christians) for Social Action, among other flagship organizations. Yet little is known about them and their history in the United States. Drawing from archival research and over one hundred oral history interviews, Hong charts how Asians and Asian Americans have changed Christian higher education, parachurch organizations, church denominations, national evangelical organizations, and faith-based political lobbies. In so doing, her work connects two developments that have reshaped racial and religious politics in America over the past fifty years: the rise of the Religious Right and the demographic transformations resulting from the 1965 Immigration and Nationality Act. This research has been supported by the UCLA Asian American Studies Center and the Louisville Institute. 
Hong is a 2022-2023 Public Fellow in PRRI's Religion and Renewing Democracy Initiative.
Selected Writings/Publications
"The  L.A. Uprisings Sparked an Evangelical Racial Reckoning," Washington Post, April 29, 2022.
"Remembering the Atlanta Spa Shootings: Hate Crimes and Perceptions of Anti-Asian Discrimination during the Covid-19 Pandemic," Public Religion Research Institute (PRRI) spotlight, March 16, 2022.
"The Asian American Movement and the Church," Journal of Asian American Studies 25:1 (February 2022): 63-95.
"What the Election of Asian American GOP Women Means for the Party" ("Made by History" column), Washington Post, March 8,2021
"In Search of a History of Asian American Evangelicals," Religion Compass (December 2019): 1-9.
Opening the Gates to Asia: A Transpacific History of How America Repealed Asian Exclusion (University of North Carolina Press, November 2019).
"'A Cross-Fire between Minorities': Black-Japanese Relations and the 'Empire Quota' in the Postwar Movement to Repeal Asian Exclusion," Pacific Historical Review 87:4 (Fall 2018): 667–701.
"Manila Prepares for Independence: Filipina/o Campaigns for U.S. Citizenship and the Reorienting of American Ethnic Histories," Journal of American Ethnic History 38:1 (Fall 2018): 5-33.
*Winner of the 2017-2018 Qualey Memorial Award from the Immigration and Ethnic History Society.
"The Origins and Construction of Korean America: Immigration before 1965," in Brill Companion to Korean American Studies, eds. Shelley Lee and Rachael Joo (Leiden, Netherlands: Brill Press, 2018), 3-20.
"The Repeal of Asian Exclusion," in Oxford Research Encyclopedia in American History, ed. Jon Butler (New York: Oxford University Press, 2014).
"The 1952 McCarran-Walter Act" and "Asian American Views of Incarceration," in Densho Encyclopedia of Japanese American Incarceration.
Courses: 
HIST 102: United States Culture and Society II
HIST 208: U.S. Immigration History
HIST 209: The United States in the World since 1900
HIST 300: History Colloquium: Histories of U.S. Empire
HIST 300: History Colloquium: Christianity and Politics in America since 1945
CSP 5: Racial Violence in US History and Memory