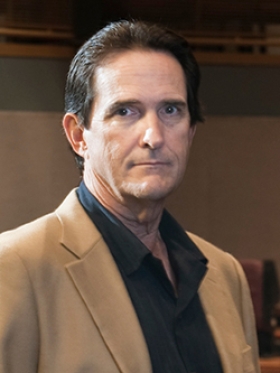 Professor, Theater, Emeritus
B.A., UC Santa Barbara; M.A., Ph.D., Rice University
Dr. Bouchard teaches courses in advanced acting, directing, performing Shakespeare, and dramatic literature.
Dr. Bouchard has MA and PhD degrees from Rice University, where he completed his doctorate in English literature while both acting and directing. He has been the artistic director of theaters at Rice, Oberlin College as well as at Occidental (where he and Alan Freeman together administered the Occidental Theater Festival in Dr. Bouchard's time here); and has directed over 60 plays in both professional and academic theater: including musicals (he was once upon a time a rock 'n roll musician) and dramatic works from Shakespeare, Moliere, Ibsen, Chekhov, Shaw, Pinter, Stoppard, Orton, and Foote. His most recent productions have been Shaw's You Never Can Tell, Shakespeare's Richard II and Othello, his own play, The Misses Bordereau, and the musical, The Drowsy Chaperone.
Dr. Bouchard's acting classes are unique in philosophy and structure. His advanced acting class, addressing acting for both film and theater, has been developed from classical psychological theory, as well as studies on perception and the nature and effect of play. His year long Shakespeare sequence combines a semester of analysis—from the perspective of actor, writer, and director—of a handful of Shakespeare's scripts with a semester of technical and psychological performance training with the same material.
The Shakespeare instruction is the product of a career-long relationship with Shakespeare's plays. So far, Dr. Bouchard has directed eighteen of Shakespeare's scripts: including his production of The Tempest that featured Patrick Stewart as Prospero. Occidental graduates he has mentored have gone on to work as directors and actors in Shakespeare theaters throughout the country; and have
been accepted into the country's finest graduate training programs.
In 1993, Dr. Bouchard began writing for the theater with The Seagulls, his rewriting of the Anton Chekhov play. Over the last ten years, he has written a series of scripts based upon classic novels beginning with The Ambassadors, a serial film script adapted from the Henry James novel of the same name. His last three scripts, designed for small theater spaces, combine elements of film—multiple short scenes, jump cuts, spare dialogue, voice overs—with traditional theatrical storytelling to transform the sweep and scope of the novel into intimate theatrical experience. The Awkward Age, Parts 1 and 2 (a two-part adaptation of the James novel) was written and produced in 2007; Anna Leath (based on the Edith Wharton novel, The Reef) in 2009, and The Misses Bordereau (a noir piece set in 1930s Hollywood and partly based on James' The Aspern Papers) in 2013. 
(Dr. Bouchard is retiring at the end of the 2017-18 school year.)