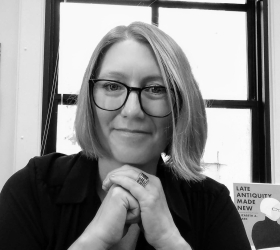 David B. and Mary H. Gamble Professorship in Religion
B.A., University of Washington; M.Div., Princeton Theol. Sem.; Ph.D., Duke University
Areas of specialization: late ancient Mediterranean religions; dress and performativity; history of medicine, health, and healing 
Prof. Upson-Saia offers specialized topics courses on the Roman world, including: Magic, Miracle, and Medicine in Antiquity; "Good" Sex: History of Sexual Ethics; Death, Dying, and the Afterlife in the Ancient Mediterranean World; and Humans and the Environment in Antiquity. With Prof. Morrissey (Philosophy) and Prof. Lehr (Economics), she team-teaches the Health & Humanity FYS course. She has also led the Turkey: Then & Now program, which pairs a semester long course with a short-term field study in Turkey (ancient Asia Minor).
Her early research focused on religious dress and performativity in late antiquity. On this topic, she published two books: Early Christian Dress: Gender, Virtue and Authority (Routledge, 2011) and Dressing Judeans and Christians in Antiquity (Routledge, 2014). 
More recently, her research focus has turned to medicine and healing in late antiquity.  Prof. Upson-Saia co-founded the international working group ReMeDHe (pronounced "remedy," an acronym for Religion, Medicine, Disability, and Health in late antiquity), a group of 350+ scholars who collaborate on scholarly projects, support one another's research, and try to make academia a kinder, better place. Her latest book Medicine, Health, and Healing in the Ancient Mediterranean was published with University of California press in 2023! 
Interested? You can listen to the BBC podcast, You're Dead to Me, linked here in which she was the guest scholar.