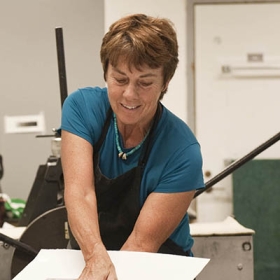 Professor, Art and Art History, Emerita (1976-2022)
B.A., M.F.A., Kent State University
Linda Lyke, a Los Angeles artist and professor of art at Occidental, is known for her printmaking, multicolored abstract monotypes, and mixed media work.
She has had 19 one-person shows, and her prints have been juried into 90 national print and drawing exhibitions. She is represented in many private and public collections, including the Ian Potter Museum in Melbourne, Australia, Belfast Print Workshop in Ireland, Texas Tech University, Security Pacific in California, the Col. James H. Jones Family Memorial Art Collection at Cal Poly Pomona, Brand Library & Art Center in Glendale, and the deCordova Sculpture Park and Museum in Massachusetts. Lyke's work explores two distinct artistic directions: one that investigates the intuitive process of abstraction, and the other that references a cultural history that reflects on a specific place over time. Lyke received a recent MacArthur Grant to research megafauna in Kenya. She was president of the Los Angeles Printmaking Society in 2017-18.
Courses
ARTS 105 Printmaking Fundamentals: Relief and Intaglio
Printmaking Fundamentals is an introduction to the technical and conceptual properties of relief and intaglio printmaking. Through a series of projects,  critique sessions, and written assignments, the course will introduce students to debates in contemporary printmaking, and the larger historical and cultural contexts that inform their work. The class will also feature visiting printmakers, field trips and other activities linking the coursework to the larger Los Angeles community.
ARTS 215 Silkscreen Printmaking
This is an introduction to the fine art of silkscreen printmaking. Students learn the historical, theoretical, and critical understanding of the process, with an emphasis on developing their artistic voice by completing specific assignments.
ARTS 217 Photo Processes in Printmaking
An introduction to new combined photo and drawing processes in printmaking, including: photo-sensitive emulsion on copper plates, solar etching, and paper plate lithography. This course will explore how photography can influence the many approaches to contemporary printmaking. Students should have an interest in creating photo images and some familiarity with Photoshop software.
ARTS 330 Advanced Projects/ Printmaking
Advanced study in printmaking including developing a theoretical, historical, and critical understanding of photo-based materials and media, including images on pronto plates and monotypes.