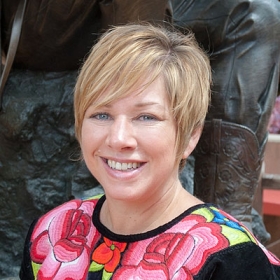 Hours
Wednesdays 8:30-9:30am, 12:30-1:30pm and Fridays 12:30-1:30pm or by appt.
Sousa specializes in the histories of colonial Latin America, indigenous peoples and languages of Mexico, and women, gender and sexuality.
Sousa's research focuses on indigenous peoples, languages, and cultures of Mexico. She is the author of The Woman Who Turned Into a Jaguar, and Other Narratives of Native Women from Archives of Colonial Mexico (Stanford University Press, 2017). The book was awarded the American Historical Association's prestigious Friedrich Katz Prize for Best Book in Latin American and Caribbean History, the American Society for Ethnohistory's Erminie Wheeler-Voeglin Award for the Best Book in Ethnohistory, and Honorable Mention for the Conference on Latin American History's María Elena Martínez Prize in Mexican History.
Sousa is co-translator and co-editor of The Story of Guadalupe: Luis Laso de la Vega's Huei Tlamahuiçoltica of 1649, a translation and analysis of the earliest Nahuatl-language account of the apparition of the Virgin of Guadalupe (Stanford University Press, 1998), and of Mesoamerican Voices, a volume of Nahuatl, Maya, and Mixtec writings from colonial Mexico and Guatemala (Cambridge University Press, 2005). In addition, she has published numerous articles and book chapters on women and crime, native marriage practices, deviance and morality, indigenous views of the conquest, and colonial Mixe writings.
Sousa's current research project examines indigenous accounts and social memories of the destruction of religious and material culture as part of the military and "spiritual" conquests of Mexico in the sixteenth century. She is also involved in several collaborative projects focused on the Florentine Codex, a twelve-volume manuscript written and illustrated by Nahua noblemen under the supervision of fray Bernardino de Sahagún between the 1540s and 1570s. Sousa's research has been supported by the National Endowment for the Humanities and the Getty Research Institute, where she was a Scholar in Residence in Spring 2018.
Sousa teaches courses in colonial and modern Latin American history, including: Colonial Latin America (H150/LLAS150); Nahuatl Language, Writing, and Culture (H251/CSLC251); Religion in Mexico (H252); Gender and Sexuality in Colonial Latin America (H300); Race in Latin America (H354); and Indians of Mexico (H355). She is committed to mentoring undergraduate research and to integrating her research methodologies and experience into her courses.