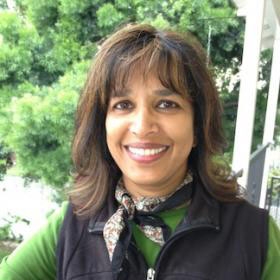 Professor, Diplomacy and World Affairs
B.A., University of Natal; M.A., Ph.D., Cambridge University
Movindri Reddy teaches courses on international political processes, international organizations, international theory, South African politics, African politics, and comparative South Asian politics.
Movindri Reddy's current research focuses on two sets of themes: First: diasporas and transnational identity, specifically in relation to the South Asian indentured diaspora in Southern Africa, Trinidad and Fiji. Second: Revolutionary theory and its application in South Africa and Egypt.  Her most recent publication is "Challenging Democracy: Ethnicity in Postcolonial Fiji and Trinidad," in Nationalism and Ethnicity, Vol. 17, No. 2, 2011. Reddy's Ph. D dissertation from Cambridge University was on Zulu ethnic conflict in South Africa. At Cambridge, her specialty was political philosophy/theory and Social/Political Science.
She has held postdoctoral fellowships at Yale University at the Southern African Research Program and Political Science, and Princeton University  at the Center of International Studies. She was also a postdoctoral research fellow under a Social Science Research Council MacArthur Fellowship, which she took to the University of Chicago. Her postdoctoral research expanded on theories of identity, ethnicity, nationalism and revolution, and included countries such as Sri Lanka and India.