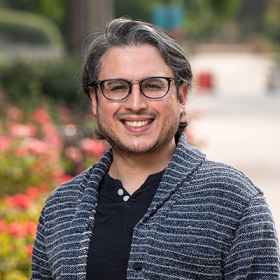 Associate Professor, Philosophy
B.A., Pitzer College; M.A., P.h.D., U.C. Riverside
Hours
Tuesdays 11:00am-12:00pm; Thursdays 3:00-4:00pm or by appointment.
Robert Sanchez specializes in Mexican/Latinx/Latin American philosophy, as well as existentialism, and he has interests in the philosophy of race, the philosophy of food, and the history of philosophy. He co-hosts a blog on Mexican philosophy. 
Robert Sanchez (PhD 2012, UCR) primarily works on the history of Mexican and Latin American philosophy, with an emphasis on Mexican existentialism and the philosophy of Mexican culture. He also specializes in the philosophy of Kierkegaard. Currently he is working on a second volume of Mexican Philosophy in the 20th Century, as well as on Kierkegaard's understanding of the concept of anxiety. Eventually he would like to teach a course on the philosophy of cooking and write a book on the aesthetics of baking bread.
Publications
Latin American and Latinx Philosophy (Routledge, 2020)
Mexican Philosophy in the 20th Century (Oxford University Press, 2017)