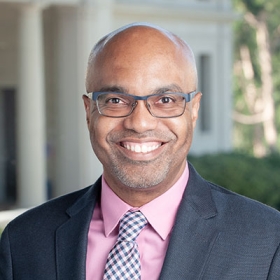 Associate Dean for Curricular Affairs; Professor, Mathematics
B.Sc., M.Sc., Ph.D., Rensselaer Polytechnic Institute
Office:
Fowler 313 (Math) & Johnson 113 (Associate Dean's office)
Ron Buckmire has spent multiple decades in higher education, gathering experience and expertise as a teacher, researcher and administrator.
RESEARCH
He has published several articles in various peer-reviewed journals, including Data, Numerical Methods for Partial Differential Equations, IMA Journal of Management Mathematics, Works and Days and the Albany Law Review. From 2011 to 2013 he served as a Program Director in the National Science Foundation (NSF)'s Division of Undergraduate Education (DUE) in the Washington, DC area. After his return to Los Angeles, as Principal Investigator, he organized the submission of a successful NSF S-STEM proposal which will ultimately bring in over $600,000 primarily for scholarships for academicaly talented but financially needy students to pursue degrees in science and mathematics at Occidental College from 2015-2020.
SERVICE
Buckmire currently serves (or has served) on multiple committees to promote diversity in mathematics at national organizations such as the Committee on Minority Participation in Mathematics at the Mathematical Association of America (MAA) and the Diversity Advisory Committee of the Society for Industrial and Applied Mathematics (SIAM). He is frequently called upon to serve as a subject matter expert and reviewer for numerous agencies and grant programs (U.S. Department of Education, California Board of Education, National Science Foundation). He has also served on the SIAM Education Committee for nearly a decade. He is the co-chair for the SIAM Applied Mathematics Education conference held July 30-August 1, 2020 in Philadelphia, PA (co-located with Mathfest 2020) and chair of the SIAM Membership Committee until December 31, 2022. He is also a member of the Human Resource Advisory Committee of the Mathematical Sciences Research Institute (MSRI) and on the board of directors of Spectra, an organization for LGBT mathematicians.
TEACHING
Buckmire's teaching interests lie primarily in teaching mathematics where context is important. He teaches courses in calculus, differential equations, complex analysis, mathematical modeling, applied mathematics and history of mathematics. He is interested in the implementation and study of innovative pedagogical techniques to improve student learning outcomes, especially in undergraduate mathematics courses.
ADMINISTRATION
In summer 2018, Buckmire began his role as Associate Dean for Curricular Affairs (ADCA) and Director of the Core Program at Occidental College. In his capacity as ADCA, he is responsible for multiple curricular and co-curricular projects at the College. For example, the Writing Program, the Center for Community Based Learning, Oxy Arts, the Institute for the Study of Los Angeles, the Urban and Environmental Policy Institute, the Community Literacy Center, the Undegraduate Research Center and the Core Program all fall under his purview. As Core Director, he is responsible for the Core Program, which is composed of the general education requirements at the center of an Occidental College liberal arts education. Additionally, the Core Program includes the Cultural Studies Program, which consists of 2 required seminars that are limited to 16 students, taken by entering first-year students and address issues of identity, culture and difference, include significant expectations of writing and introduce students to college-level intellectual engagement.
From summer 2016 to summer 2018 Buckmire served as a federal employee as a (permanent) program officer at NSF. While there he was the Lead Program Officer for the NSF Scholarships, in Science, Technology, Engineering, and Mathematics (NSF S-STEM) program. S-STEM is a  federal program to support the academic success of low-income, highly qualified students who are majoring in a STEM discipline at institutions of higher education in the United States. During his stewardship, over $250 million was awarded to colleges and universities to run projects to support low-income, academically talented STEM majors attain associates, bacccaluareate and graduate degrees. In addition to S-STEM, Buckmire worked on the Improving Undergraduate STEM Education (IUSE) program, making funding decisions to award approximately $5-10 million in grants per year  to improve undergraduate mathematics education around the country.
From 2005 to 2010 and again from 2015-2016 he served as the chair of the mathematics department at Occidental College. During that time he was responsible for the revision of the mathematics minor, making it one of the most popular minors on campus.