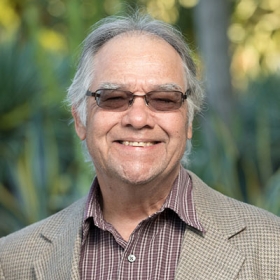 B.S., M.Ed., Loyola Marymount University; Ph.D., UCLA
Ron Solórzano teaches education policy, school reform and legal court cases, second language acquisition theories and practices, high stakes student and teacher assessments, program evaluation and race/class effects in education courses.
He has researched and published in the areas of school effects, student and teacher high stakes assessments, bilingual education, and state teaching standard's effect on urban schools. Solórzano has served on several state and national committees on adult literacy, program evaluation, and teacher assessment. He came to Occidental after teaching in the Los Angeles Unified School District for 13 years, and teaching as an adjunct professor/instructor for 7 years at several CSU colleges/universities and as an instructor at East Los Angeles Community College. He also worked as a Research Associate at the Educational Testing Service (ETS) for 8 years. He's also a musician with 4 recorded CDs.