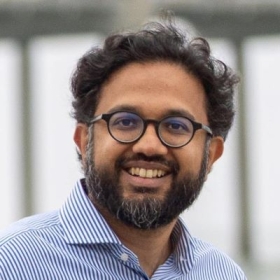 Assistant Professor, Religious Studies
B.S., Lahore University; M.A., Duke University; Ph.D., Columbia University
Areas of specialization: Islamic law; anthropology of Islam; religion and capitalism; secularism; South Asia.
Professor Sohaib Khan is a scholar of comparative Islamic studies with an interest in connections between religion, secularism, and economic life in Muslim societies. His research, teaching, and public scholarship lie at the intersection of Islamic legal studies, anthropology, postcolonial studies, and histories of capitalism in South Asia and the Middle East. Trained as an interdisciplinary historian and ethnographer, Prof. Khan received his Ph.D. (2020) from Columbia University's Department of Middle Eastern, South Asian, and African Studies (MESAAS). Before joining Occidental College, Prof. Khan taught Islamic studies at Pomona College, Williams College, and the Lahore University of Management Sciences. He has also served as an Islamic Law and Civilization Fellow at Yale Law School and a Faculty Fellow at the Charles Warren Center for Studies in American History at Harvard University.
Prof. Khan's courses explore classical and contemporary Islam through an examination of law and ethics, knowledge and power, gender, colonialism, racial capitalism, and climate change. At Oxy, he is teaching interdisciplinary and specialized topics courses, including Islam on the Move, Islamic Law: Justice, Ethics, and Power in the Muslim World, Islam and Capitalism, Islam and the Critical Study of Secularism, and Islam in the US: Religion, Race, and Empire.
Prof. Khan's first book in progress, titled Translating Capitalism: How Muslim Jurists and Bankers Invented Shari'a Compliance, documents the struggle of an Indo-Muslim scholarly community to reconcile capitalism's financial system with Islamic law. Combining a close reading of Islamic legal texts with an ethnography of Muslim jurists straddling religious seminaries and financial corporations, Translating Capitalism illuminates a world of expertise in which religion, law, and finance are deeply entangled. The book offers a corrective to Eurocentric histories of capitalist expansion in the global South by demonstrating how avowedly secular financial markets can be repurposed as mechanisms of Islamic reform.
Prof. Khan's research has been supported by fellowships from the Wenner-Gren Foundation, the American Council of Learned Societies (ACLS), the Andrew Mellon Foundation, the American Institute of Pakistan Studies (AIPS), the US Department of Education (FLAS), and the Institute for Religion, Culture, and Public Life (IRCPL).