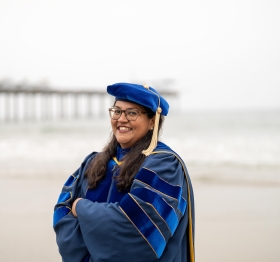 Assistant Professor, Diplomacy and World Affairs
B.S., Lahore University of Management Sciences (LUMS); M.S., University of Oxford; M.A., New York University; Ph.D., University of California at San Diego
Hours
W 1:30PM - 3:30PM (or by appointment via email)
Professor Ijaz is a scholar of the political economy of development, with a regional focus on South Asia. Her research, teaching, and public scholarship is situated at the cusp of international and comparative politics: she is most interested in the domestic consequences of foreign aid. In 2023, she received a Ph.D. in Political Science from the University of California at San Diego (UCSD). At Occidental College, she will be teaching courses on international development, globalization, foreign aid and democratic processes in South Asia. 
Her book project, ''Aiding Accountability: The Politics of Last-Mile Service Delivery in Pakistan" explores the strategic distributive politics of foreign aid delivery to Pakistani voters. Last mile service delivery refers to the final distribution of aid benefits to its intended recipients. In developing democracies, last mile service delivery is riddled with asymmetries of information and administrative hurdles. For example, in her fieldwork, Professor Ijaz came across one such obstacle - that of biometric verification. This is often a challenging requirement for women beneficiaries with blurred fingerprints as a result of washing clothes and dishes. Women beneficiaries who cannot pass biometric verification must jump through an additional administrative hurdle of procuring a waiver form before receiving the aid benefit intended for them, which in this case is a cash transfer. It is these last-mile hurdles that change voters' political demands from seeking new public goods to seeking facilitation for existing foreign aid benefits. Professor Ijaz finds that local politicians respond to these demands, largely because they are resource-constrained. By providing facilitative services rather than new goods, they are able to secure votes cheaply. This creates a potential locus of accountability around the political exchange of last-mile services. 
Her current research focuses on Pakistan where she has accumulated over two years of fieldwork. Before joining UCSD, she completed an M.A. in Politics from New York University and an MS.c. in Economics for Development from the University of Oxford as a Commonwealth Scholar.
In 2017, Professor Ijaz was a United States Institute of Peace (USIP) Junior Peace Fellow at the Lahore University of Management Sciences. She has also consulted with the World Bank, UNICEF and the Adam Smith Institute.