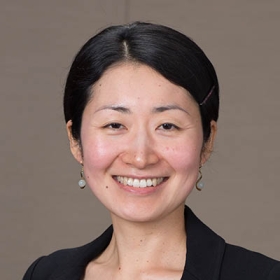 Assistant Professor, Art and Art History
B.A., University of Illinois at Urbana-Champaign; A.M., Harvard University; Ph.D., Harvard University
Hours
Tuesday & Thursday 3:15-4:45 or by appointment
Yurika Wakamatsu teaches East Asian art history, including pictorial narratives, woodblock prints, comics and anime, and gender and visual culture. Read her Oxy Story profile.
Wakamatsu pursues cross-cultural and interdisciplinary research and teaching in East Asian art history by engaging with the disciplines of art history, literature, history, and gender studies. In particular, her work focuses on the intersections of gender and premodernity in nineteenth-century Japanese art. She is currently preparing a book manuscript, tentatively titled Painting in Between: Gender and Modernity in the Japanese Literati Art of Okuhara Seiko (1837–1913), which investigates the aesthetic and conceptual transformations of literati art during the turbulent period of Japan's modernization. Examining the complex interactions between changing perceptions of Sinitic culture and women's place therein, her study seeks to reconceptualize the relationship between gender and literati art. Simultaneously, she is working on a project that examines the feminization of art and modern conceptions of Japanese womanhood; an earlier version of this essay was awarded the 2015 Chino Kaori Memorial Essay Prize from the Japan Art History Forum. 
Courses
This course provides an introduction to East Asian art and architecture from ancient times to the present. Although the framework of the course is loosely chronological, each week will focus on in-depth analysis of a different type of object that addresses a particular problem or concept. We will explore topics such as ancient tomb paintings that transform afterlives, the cinematic qualities of medieval handscrolls, metaphorical uses of amorphous ink in calligraphy and painting, the deconstruction of artistic hierarchies in the tea ceremony, and gender and the politics of contemporary performance art. In addition to developing the foundational skills of close looking, critical thinking, and self-reflective writing, students will ultimately gain an understanding of the diversity, complexity, and conceptual excitement of East Asian art.
This course examines the Japanese woodblock print from its emergence in the mid-seventeenth century to the modern era. We will investigate topics such as technological innovations, changing habits of looking, censorship and resistance in the creation of popular culture, the role of prints as a medium of reportage and propaganda, and Japonisme and the construction of Japanese art. By tracing the historical development of Japanese prints, we will examine how woodblock prints were reconceptualized from a popular medium of visual culture to a quintessential embodiment of Japanese aesthetic tradition.
This seminar explores the relationship between art and women in East Asia from ancient times to the present. We will study the various ways in which women have been engaging with art—as producers, as patrons, and as objects or subjects of the gaze. At the same time, we will examine how women and gender have been conceived and contested in China, Japan, and Korea. Over the course of the semester, we will investigate topics such as women artists and patrons; Buddhist conceptions of the feminine and women's devotional practices; performing "women" in theater; shifting ideals of beauty and the alteration of women's bodies; and the representation of gender in contemporary popular culture. Ultimately, students will develop critical tools for examining how women have been represented in visual culture and how they have exerted their own forms of artistic agency.
This seminar examines the role of gender in the production and reception of visual images in Japan from the twelfth through the twenty-first centuries. Closely engaging with a variety of images, literary texts, and performances, we will investigate topics such as creating female protagonists in medieval handscrolls, the premodern imagination of male-male sexuality, beauty prints and the construction of ideal masculinity, and the theatrical staging of androgyny. Ultimately, this course will provide students with an understanding of how art and gender have been conceptualized in Japan, as well as tools to think beyond that understanding.