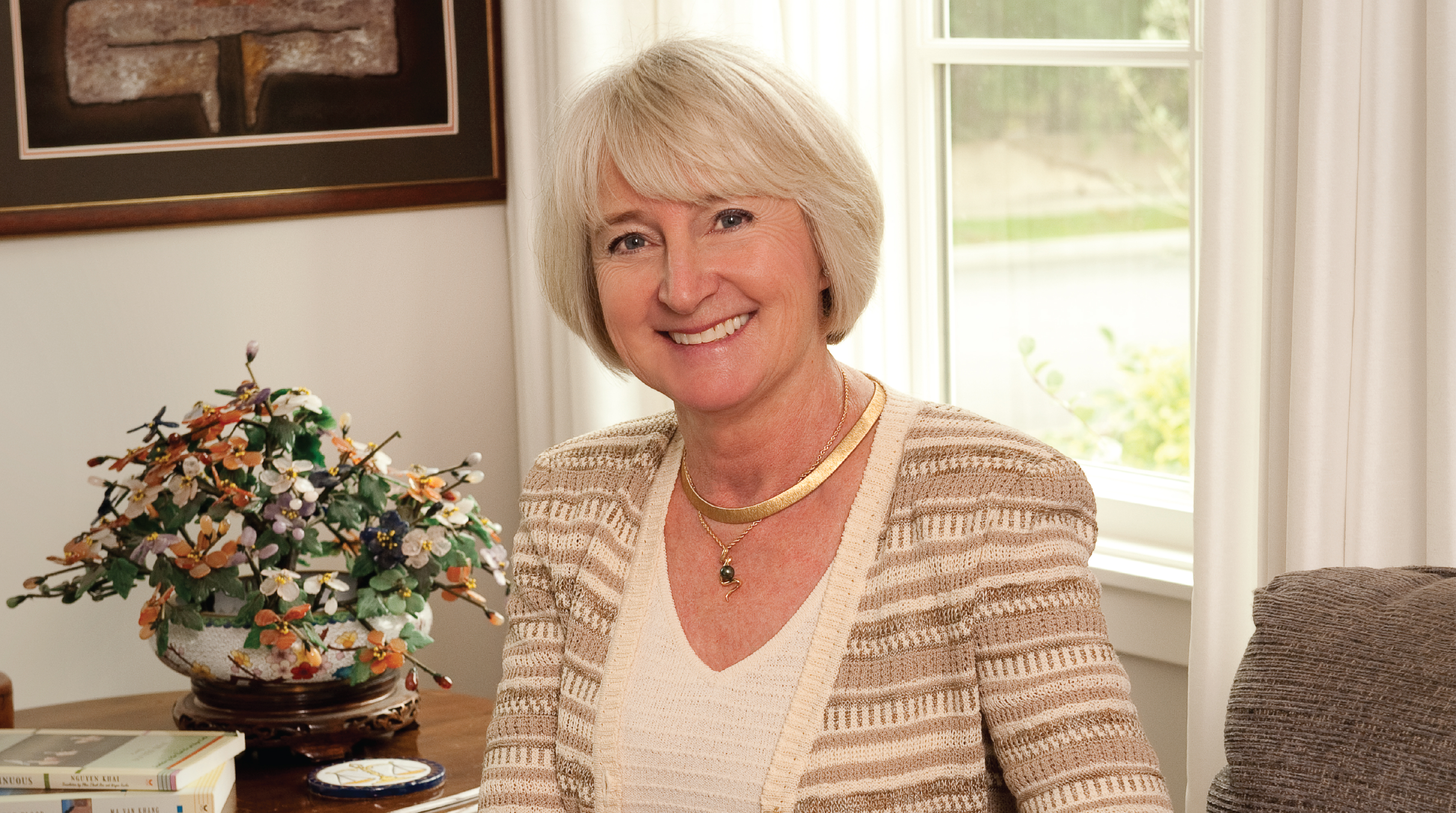 Sparked by a host of grants, gifts, and innovative initiatives, The Oxy Campaign For Good forges ahead
Defying the disruptions caused by the global pandemic, The Oxy Campaign For Good continues to build momentum following one of the most successful fundraising years in College history—a community effort that brings the total in gifts and commitments to $195 million as of September 30, within hailing distance of its $225 million goal.
Occidental raised a total of $31 million during the 2020-21 fiscal year, including $7.3 million in planned gift commitments identified through the first-ever Legacy Challenge and $1.6 million raised in just 36 hours during the second annual Day For Oxy. Announced in June was a multimillion-dollar estate gift from trustee and campaign co-chair Anne Wilson Cannon '74 (pictured, above) that, added to her previous giving, makes her Oxy's largest living individual donor.
With close to 90 percent of the Campaign's goal already in hand, Oxy students and faculty have already begun to see the impact of the thousands of gifts the College has received, including those designated for student scholarships, the Campaign's top priority.
»  The Edgerton-Occidental Merit Scholarship Program, aimed at middle-income students from California, has raised $2.1 million toward its $6.4 million goal from 68 donors, including more than $306,000 from members of the Class of 1971 to commemorate their 50th reunion. The first Edgerton scholarships are expected to be awarded this academic year.
»  Professor of Black Studies Erica Ball is serving as Oxy's inaugural Mary Jane Hewitt Endowed Department Chair in Black Studies, thanks to a $500,000 anonymous gift. Funds generated by the Hewitt endowment provided a course release for the chair, a stipend for her scholarly work, and discretionary funding for the department's most pressing needs.
» A new three-year, $247,500 grant from the Sherman Fairchild Foundation will provide summer research opportunities for more underrepresented and first-generation students with an interest in the sciences.
» Funded by a $750,000 grant from the Fletcher Jones Foundation, the newly renovated multipurpose computer classroom on the ground floor of the Academic Commons is busy with a full weekly schedule of classes in computer science.
The Campaign is scheduled to conclude on June 30, 2023. In the coming months, some of Oxy's fundraising focus will shift to the priorities identified by the 60 alumni, parents, and trustees who served alongside faculty on the College's Science and Music and MAC (Media Arts & Culture) task forces.
Science programs currently make up 40 percent of all declared majors and minors. Media Arts & Culture and Music Production are two of the College's fastest-growing programs, and Oxy is uniquely positioned to take full advantage of its location in Los Angeles, a global leader in film and music production.
Investing in new faculty positions, including the creation of endowed professorships, is critically important to keep pace with growing student demand in film, music, and the sciences, both task forces concluded.
"Investments in the Norris Chemistry Building [built in 1960] and other teaching and research science facilities are critical to student success and the attainment of the College's ambitions," the Science task force report says. The necessary work won't come cheap: Renovating the Norris teaching labs will require as much as $40 million.
The state-of-the-art Choi Family Music Production Center in Booth Hall and a new percussion studio in Thorne Hall both went live this fall, but additional modern production and performance spaces are needed, the Music & MAC task force concluded. Those departments "are past the point of 'adversity feeding creativity,' " the report states.
"What lies ahead for Oxy is exciting and inspiring," says Charlie Cardillo, vice president for institutional advancement. "With continuing support from the College community, The Oxy Campaign For Good can continue to deliver on the cornerstones of its mission—excellence, equity, community, and service."