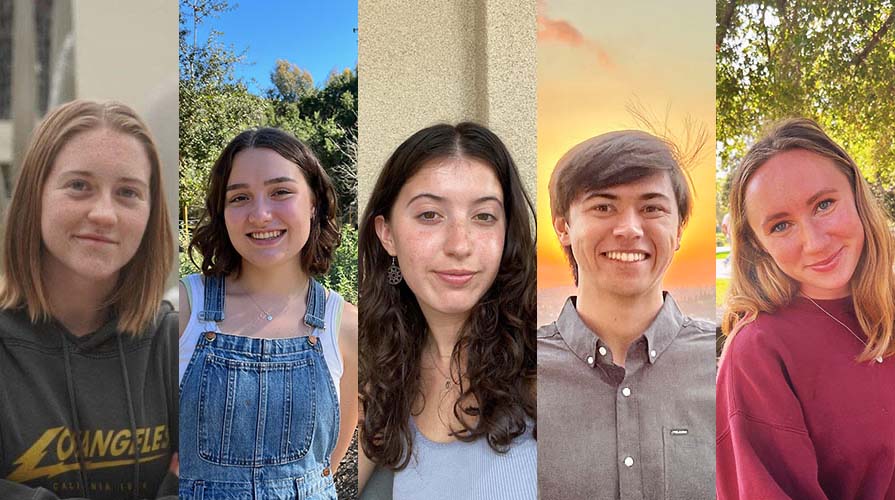 Five Occidental College seniors collaborating with faculty mentors in the fields of chemistry and biology make up this year's cohort of Science Scholars. They have been presented with research grants funded by the Fletcher Jones Foundation.
The scholars selected for this prestigious honor include Bianca Dal Bó '24, a biology major and Latino/a & Latin American studies minor from Berkeley; Clara Dearden '24, a chemistry major from San Diego; Ciara Gillen '24, a chemistry major from Newton, Mass.; Mason Lynch '24, a cell and molecular biology major and urban & environmental policy minor from San Jose; and Ruby Siehl '24, a biology (environmental science) major and sociology minor from Seattle.
Each Science Scholar receives $15,000 for research conducted during the spring term of their junior year, summer research between junior/senior years, and all of senior year. Each scholar will present their work at a professional conference as well as at Oxy's summer 2023 Undergraduate Research Conference. 
"The applicant pool was very strong this year," says Undergraduate Research Center Director and Associate Professor of Philosophy Clair Morrissey. "These scholars represent a special group who started Oxy during fully remote learning and faced additional obstacles in order to become successful researchers."
The finalists interviewed with a faculty committee made up of Associate Professor of Chemistry Jeffrey Cannon, Professor of Physics Janet Scheel, Professor of Biology Joseph Schulz, Associate Professor of Cognitive Science and Computer Science Justin Li and Morrissey. The committee also included President Harry J. Elam and former Science Scholar Elisabeth (Lisa) Rutledge '10. 
Working with Professor of Biology Shana Goffredi, Dal Bó will pursue a project titled "In Search of Methane-Oxidizing Symbionts in Deep-Sea Invertebrates."
Dal Bó researches deep-sea invertebrates—specifically sponges, sea spiders, worms and snails—that inhabit the diverse ecosystem of the Del Mar methane seep off the coast of Southern California. Using molecular analyses, microscopy techniques and isotopic data, she aims to identify the microbes that form intimate partnerships with these animals and how they may be facilitating their unusual nutritional lifestyle. "Learning about methane-consuming symbiotic relationships and systems in the deep sea may provide insight into how to manage carbon emissions above water," Dal Bó says.
Dearden is working with Fletcher Jones Foundation Professor of Chemistry Michael Hill on a project titled "The Electrochemical driven hydrocarbon oxidation by a cytochrome P450 BM3 (Bacillus megaterium)/anthraquinone conjugate." 
Dearden researches Cytochrome P450s, heme monoxidase enzymes that catalyze highly specific molecular alterations, which makes them invaluable tools in biomedicine and drug synthesis—including cancer drugs. But accessing this molecular engineering tool requires a reduction of NAD(P)H via oxidation, a very expensive process. "To address this issue, our research explores the electrochemical reduction of P450 as an alternative to NAD(P)H. We propose that an electrode and potentiostat could fill the role of NAD(P)H and the P450 Reductase domains in the two-electron reduction of the enzyme," Dearden says.
Working with Cannon, himself a former Science Scholar at Occidental, Gillen's project is called "A novel approach for the stereoselective synthesis of the Indolizidine Alkaloids."
Gillen will research indolizidine alkaloids, a class of biologically active organic molecules. They offer a range of known and unknown biological applications when functionalized, but they are not easily or affordably accessed. "This research aims to access an indolizidine precursor through an efficient and diversifiable route," Gillen says. "Enantioselectivity is also a crucial element of this synthesis as it directly influences the molecules' biological activity. The resulting enantioselective synthesis has applications in pharmacological, medicinal and biotechnological research, pioneering the way to impactful drug development."
Working with Associate Professor of Biology John McCormack, Lynch is pursuing a project titled "Song and Speciation in the Buff-Throated Woodcreeper."
Lynch notes that there has been a lack of studies detailing bird song change within a species and how it may be initiating the process of speciation. Focusing on the buff-throated woodcreeper, he will perform selective genomic sequencing of 94 DNA samples, using the resulting data to compare the birds' genetic differences against variance in their mating song. "Should genetic variation track closely with the difference in song, this would suggest that the development of a new song is able to catalyze the divergence of a new species," Lynch says. "If no clear connection can be discerned, then bird song may not be a strong driver of speciation."
Siehl is also working with Goffredi on a project called "Identification and Characterization of Bacterial and Fungal Symbionts in Sap-Sucking Neotropical Insects."
Siehl studies symbiosis, the mutually beneficial relationship between two organisms that gives certain animals the ability to survive on typically unfavorable food sources. A promising amount of research indicates that this relationship is occurring between bacteria, fungi, and insects in tropical regions. "My research project seeks to uncover these novel relationships by extracting genetic material from bacteria, fungi, and their host insects, and working with this DNA and RNA to determine the intricacies of insect-symbiont alliances," Siehl says.