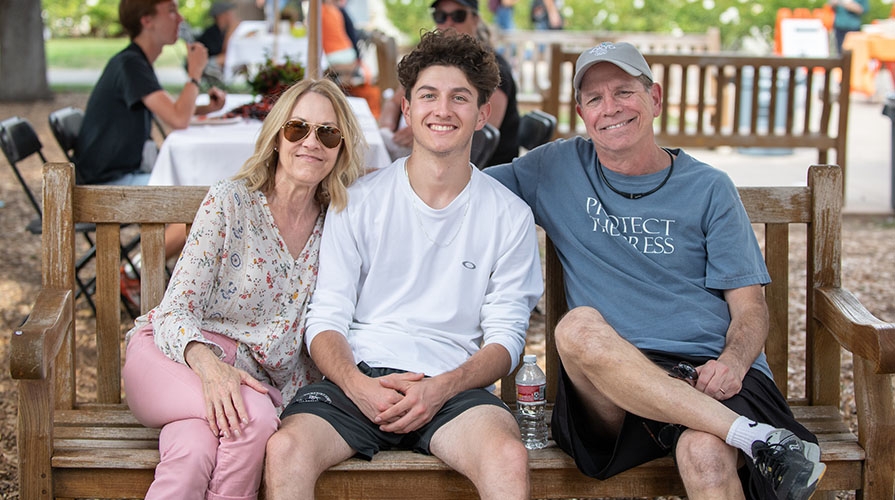 Gifts of every size make a big difference. Participation in the Oxy Campaign For Good means participation in the greater mission and life of the institution. By joining any of the Oxy giving societies, you have the opportunity to heighten your engagement with the College, learn more about the programs that directly impact student success and connect with campus leadership. To join our generous community of parents with your own philanthropic contribution, please visit oxy.edu/giving or contact Jenna Hanson, associate director of the Oxy Fund, at jhanson2@oxy.edu or (323) 259-2567.
Parents Council
The Parents Council (PC) is the principal parent fundraising body for Occidental College. As ambassadors of the College, PC members get to know their fellow Oxy families and encourage philanthropic contributions at or above $1,000. PC members lead by example in making their own leadership gifts to Oxy, and they raise awareness about how parent support impacts the student experience. For more information about the Parents Council, please contact Tamara Himmelstein, associate director of the Oxy Fund, at trice@oxy.edu or (323) 259-2567.
Tiger Club
The Tiger Club Committee is the principal fundraising body for athletics at Oxy. Comprised of parents and alumni who represent a variety of sports, the Tiger Club works with Oxy Fund staff and fellow volunteers to build support for Occidental's athletic programs, serving as liaisons and advisers to the Athletics and Institutional Advancement departments.
Tiger Club members engage with alumni, parents and students to deepen their engagement with the College across the Oxy athletics program, and raise awareness about the impact of gifts on the experience of student athletes. Please contact Jenna Hanson, associate director of the
Oxy Fund
, at
jhanson2@oxy.edu
or (323) 259-2567 to learn how you can get involved.