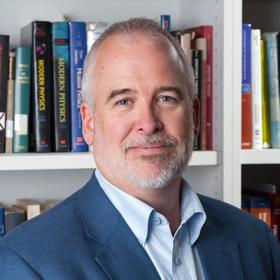 George Schmiedeshoff, longtime professor of physics at Oxy and an experimental condensed matter physicist, passed away July 16, 2019 from pancreatic cancer. He was 63 years old.
George joined the Occidental faculty in 1992 after earning his Ph.D. at the University of Massachusetts at Amherst and teaching at MIT, Tufts and Bowdoin. He studied liquids and solids under extreme conditions, such as very low temperatures and high magnetic fields, to better understand new forms of magnetism and superconductivity. He had more than 20 years of consecutive research funding from the National Science Foundation. As part of his research, he developed a miniature dilatometer—an instrument capable of measuring changes smaller than the diameter of a hydrogen atom in the thickness of materials—that is in use in national laboratories and universities around the world.
Of his more than 50 peer-reviewed publications, 15 had Occidental student co-authors, in part the result of his active participation in the Summer Research Program. He regularly brought students to the National High Magnetic Field Laboratory in northern Florida to assist with his experiments. George also collaborated with scientists at Iowa State, Boston College, Caltech, Cambridge Pressure Cells, Los Alamos National Laboratory, Quantum Design, and UC San Diego. At Occidental he served multiple terms as department chair and took particular pleasure in teaching introductory physics to pre-med students.
He is survived by his long-time partner Ava and her family and his sister Joan and her family.
View video of the Celebration of Life event
In lieu of flowers, we ask that gifts in George's memory be made to Occidental College for physics undergraduate research.
If collective memorial gifts reach $100,000, a named endowed fund will be established to support, in perpetuity, the George Schmiedeshoff Undergraduate Research Fellowship in Physics. Otherwise, gifts made in George's memory will be fully spent at the discretion of the physics department for undergraduate research.
You can make a gift using this link. Please make sure to select "Other" as the designation and enter Physics Undergraduate Research into the open text field under the "Designations" section of the giving form. If making a gift by mail, please include George Schmiedeshoff in the memo line. Please send a check payable to Occidental College and mail to:
1600 Campus Road, M-34
Los Angeles, CA 90041
I had invited George to speak to the first year faculty as part of the CTE's first year faculty learning community get togethers.  I had asked him to provide any advice he cared to offer them on the topic of "how to balance teaching and research".  During his remarks he pulled up a little basket (like an Easter egg basket for a little kid) filled with little bits of what seemed like paper, and proceeding to pass out a "miniature basket" from his basket to each first year faculty member.  Each little basket contained very small little bits of paper that were smaller than a small coin.  On each piece of small paper was written the word "NO" on it.  They were all puzzled until George explained, "There will be times when someone at Oxy will ask you to do something in the name of 'service to the College'".  If this is something  where you feel you have some special expertise then perhaps you can accept the request.  But if it is something in which you have no special expertise, then it is important to politely decline the request if you expect to have time for the research that will be an important part of your tenure file.  Keep this little basket of "NOs" on your desk to remind you not to hesitate to decline such requests, at least until you have achieved tenure.
     -Robby Moore, economics
George was a true mentor for me mostly in the accomplishment of my teaching job (a bit in research) since I have started working at Occidental (I have taught his courses and continue teaching one of them this semester). He was my direct office neighbor so I could directly hear his ups and downs. I have appreciated his honesty, his kindness and his commitment in his work. A very good example for my personal and professional lives. We had something in common that was our dogs, both chihuahuas and we were both bringing them to our respective offices. He was a true person and I miss him. True to himself and true to the others. The students miss him too.
     -Gabriel Freiman, physics
I knew George back when he was a postdoc at the old magnet lab at MIT. At some point, we started the tradition of meeting for a nice dinner during March APS meetings. I'm not sure how far back that goes, but we certainly did dinner together (with Mary Anne Johnson from NHMFL) at the 1998 March APS meeting in Los Angeles. In 2003 my wife, Ariane, joined George, Mary Anne, and I at the Austin APS meeting. The tradition continued from there; after Mary Anne retired and no longer came to the meetings it was just the three of us. One memorable dinner was at a fish restaurant in Baltimore, where George regaled us with his Darth Vader voice imitation – George was studying voice as a hobby and had some speaking parts on TV and radio. George was always happy in life, and fun to be around. We will miss him.
     -Greg Stewart, University of Florida
In his fitting tribute in the faculty meeting, Alec described George's apparent desire to be done with classes every semester, week by week. I say apparent, because George took me aside year after year to describe changes he was thinking of making to his classes to make them better learning experiences for students, particularly pre-meds who tend to fear physics. For instance, he asked me what I thought of teaching optics in the middle of the semester rather than at the end, to help the students "see" physics. This struck me as odd behavior in a person who hated teaching. I think there are two possible explanations. Either he tried to perfect his teaching out of a sense of duty to his job, or he hid his love of teaching to preserve his curmudgeonly persona. I tend to think the latter is true, because George seemed to be a man who had found his true calling, despite his best efforts to pretend otherwise.
     -Gretchen North, biology
While I cannot make it to the memorial, I would like to share a few words (a shortened version of what I sent to George before he died):
After graduating from Oxy, I have had a wide variety of experiences and met many folks along the way. A few of them helped me become the person I am today by leaving me with bits of knowledge and voices of wisdom that I carry always with me. George is one of them.

George was a phenomenal educator who brought a dash of silliness to the classroom (I love recounting his quest to tunnel through the wall into the neighboring math class in Modern Physics) and held us all to high standards. He was a tough professor to say the least, but it helped me to get to the next level of thinking, learning, and doing. George did not try to shield us from the difficulties of physics and of life in general, and in doing so he helped prepare me more than I could have ever known at the time.

I appreciate from the bottom of my heart that he saw my potential and offered me an opportunity to do research. He opened a huge and heavy door for me that I could not have opened alone. The opportunity George provided me gave me confidence in my own abilities and motivation to continue working hard because it helped me believe that I could do great work and make a positive, profound difference.

These days I am building a company to teach folks how to think critically and creatively, use technology/science/math as a tool, and solve problems. I am able to do this work because of the education and opportunities George helped provide me at Oxy. Even though I  was drawn to cosmology and ultimately did research in Prof. Snowden-Ifft's lab, George initiated that opportunity as I was a fledgling physics major trying to find my footing. (And also the one who kept us all entertained by pouring liquid helium onto the floor and giving permission for your research students to make some of the best ice cream I've ever had.) My experience doing research for Prof. Snowden-Ifft was incredibly valuable and life-changing—I learned about electronics and engineering as well as cosmology, and use these skills and knowledge daily.

I have struggled a lot with confidence in technical areas due to personal, peer, and societal pressures both at Oxy and beyond—George was a major influence in helping me recognize that I am capable of great things. Because he believed in me, I was able to believe in myself.

I cannot express enough how grateful I am to have had George as a professor. The world is a more educated and curious and silly place for his commitment to education and research.
     -Jennifer Fox, former student
George was one of the most influential people and mentors in my life.
I still remember the first time I met George. I was a prospective student visiting Oxy with my mom and we were a little confused about where to go. We ran into George outside the administration building near Emmons. He pointed us in the correct direction and we mentioned we came from Connecticut, turns out George was from my home county. This was the first person I met on campus and it set the tone for my entire undergraduate, and eventually graduate/career, experience. Only in retrospect did I realize how this was a chance meeting, I highly doubt that George spent much time in that area.
I met George for the second time during matriculation, because I had said I was interested in physics, despite coming to Oxy to work in Diplomacy and World Affairs. He convinced me to try physics. I did. I had George for waves as my first collegiate physics class. He made physics fun, he made it interesting, and he was the inspiration for me to go into research. He wanted us to be engaged learners and he encouraged me to try summer research. I spent three summers working with him.
But George was more than my academic mentor—he was a life mentor. Any problem I went to him for he showed up whether it was getting help from Emmons or finding me a place to sleep when my apartment flooded to career advice. Yes, he sometimes got upset with me if I didn't live up to my full potential but again that was George. He believed in me, taught me to believe in myself, showed me that I could be more than I thought I could be, and showed me how to value myself. I still attribute many of my successes and skills in my life to George and the things he taught me. He is an inspiration for an academic father who will be greatly missed.
     -Amanda Lounsbury, former student
I took "Light" with George my first semester at Occidental College, and (at the time) I was on the fence of whether or not I should be a physics or theater major. George made the choice simple by bringing physics alive and welcoming me wholeheartedly into the department.  I still remember a conservation of energy demonstration where he was seemingly going to smash himself in the face with a bowling ball at the end of a long pendulum attached to the ceiling. The whole class gasped as the ball came flying towards his face.  The introductory theater class I took that first semester was the worst grade of my college career, while I did so well in George's class that I didn't have to take the final exam!  After that first semester, I declared myself a physics major and asked George to be my academic advisor.  This began a long relationship where I would regularly stop by his office, unannounced, often stressed out about some academic or life decision.  He was infinitely patient with me, always making me feel like he had all the time in the world to listen to my problems. He went out of his way to encourage and mentor me, giving me advice and input about everything from research to academics to travel to finances.  Because he was neither my research advisor nor my teacher after that first year, I always felt like I could be honest and vulnerable with him, and his continual support got me through many periods of doubt and struggle throughout my time at Occidental. At one point my parents were visiting and we stopped by George's office.  He jokingly told my dad that "Jessica is nothing but trouble."  To this day, my dad still reminds me of my long-time status as a "troublemaker" whenever I do something that challenges the status quo (which is quite often).  George introduced me to many ideas around supporting underrepresented folks in physics and the ways one can use their privilege to challenge inequity, at a time before I even understood that those inequities existed.  And he was thoughtful about giving extra support to those who are often overlooked or marginalized in our field.  The world has lost a great man, and I feel so grateful to have crossed paths with him while he was on this earth.  Thank you George, for all that you gave me and countless others, I will do my best to emulate your positivity, humor, care, and energy in all that I do.
   -Jessica Kirkpatrick, former student
George picked me out of a class of 80 Electricity and Magnetism students and asked if I was interested in doing research in his lab. As a sophomore physics major, I was shocked to be offered such an opportunity and also wondered what I could possibly do with my E&M skills in a research lab where they discovered brand new physics. But I said yes anyway. Over the next few years I travelled with George to Los Alamos National Lab three times to work at the National High Magnetic Field Laboratory taking thermal expansion and magnetostriction data on heavy fermion crystals. I also spent a summer there as part of NSF's Research Experiences for Undergraduates program. Two memories stand out the most. The first was when George patiently (but also frustratedly) tried to explain to me how a resistor could be used as a thermometer. ("But you measure resistance. How can you change resistance into temperature?")  And the second is when I found a more efficient way to get a fiddly little strip of thin paper to sit perfectly in the gap between the edge of a copper disk and the circular hole it fit into (they needed to be electrically isolated). When George said "This is the type of thing I can talk about in your graduate school recommendation letters" I thought to myself "really? That's what they're looking for?" and also "wow, George thinks I should go to graduate school."
George was fond of saying "Anyone can get a PhD in physics, you just have to want one badly enough." As an undergrad, this gave me a lot of confidence because I heard "yes-- go do it." I only learned later that it had the double meaning that the most important characteristic in succeeding in a PhD program is sheer determination. George has always stayed in touch. I was so honored to come back to Oxy to talk about my own research few years ago. But most distinctly, I saw George every year at the APS March Meeting and we always took time to catch up. He took me to give a talk at my first March Meeting as an undergraduate student, and I just thought he'd always be there.
Since leaving Oxy, I have been extremely fortunate to have an excellent string of research advisors and mentors. I now take this experience with me into advising my own research students. I credit George for this. He was my first research advisor and he taught me what a good research advisor looks like. And I was just one of many of George's research students. Thank you George. We were so lucky to have you.
   -Shawna Hollen, former student