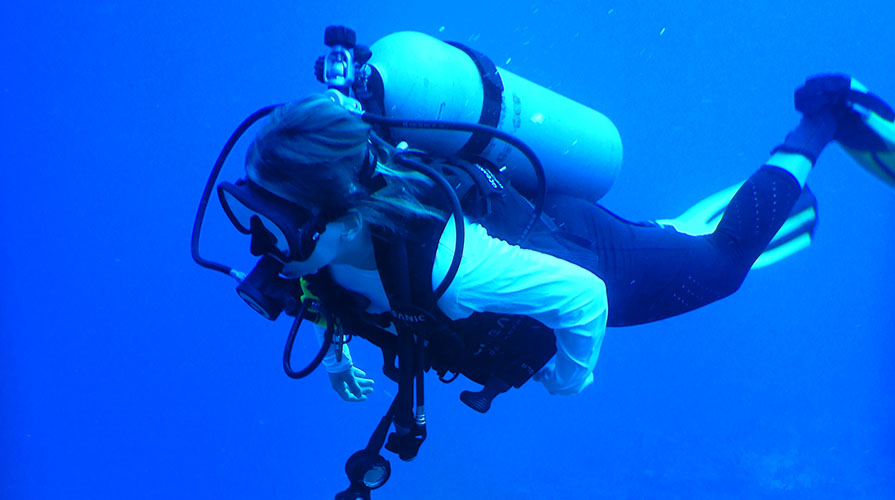 Hannah Hoefs has discovered a love of scientific diving and a home in the marine biology program at Oxy. This summer she spent three weeks in Jamaica with one of her professors, surveying coral reef growth and recovery.
Though she had always loved the outdoors, Hannah grew up in a land-locked state in the upper Midwest. Deep-sea diving wasn't exactly on her radar.
Her first exposure came when she was in high school in St. Paul, Minn., participating in her school's mock trial program. As a witness in a case about a scuba diving accident, she figured she should read some scuba diving memoirs.
"I was trying to get in the mindset of what it's like to be in a life or death situation underwater," she says. At the time Hannah was an aspiring ER doctor, so the adrenaline and the element of risk associated with diving appealed to her. A seed was planted.
When she came to Oxy her plans were still premed, but she decided to take a marine biology course with Instructor Laurel Zahn. She really fell in with the program's professors, she says, as well as the student TAs who talked about their diving trips and work in the marine lab.
"They were huge advocates for the marine biology program. I feel like it doesn't get a lot of hype, but it's really a special program," Hannah says. "At first student research sounded so intimidating, but over the course of my first year, I became more and more convinced that this is what I wanted to do."
Being able to regularly go and be in the kelp forests, surrounded on all sides by so much biodiversity and plant life is incredible. It's like hiking underwater."
Hannah was encouraged to join Oxy's marine lab, the Vantuna Research Group. Led by Professor Dan Pondella '87 M'92, the VRG monitors and analyzes long-term marine processes along the Southern California coastline. As a lab member Hannah committed to five hours a week, which included both diving and lab work.
"There's a lot of opportunity to get involved and move up, and you gain some unique skills that are unusual for undergraduates since there are no grad students at the lab," Hannah says. "The staff makes it a really great place to work."
Applying her training further afield
Hannah has progressively earned her diving certifications over the last couple of years, which meant intensive coursework, testing and accumulating diving hours. It's been a long but worthwhile process.
"Since then I've been able to dive freely and I own my own gear and I love it. Being able to regularly go and be in the kelp forests, surrounded on all sides by so much biodiversity and plant life is incredible. It's like hiking underwater."
Hannah has twice participated in Oxy's Undergraduate Research Program, which provided funding and mentorship for research. Last summer she worked at the VRG studying five key species of local macroinvertebrates that live in the rocky reefs and kelp forests.
This year, Assistant Professor Amber Stubler invited Hannah, her former marine biology TA, to take part in an exciting new opportunity. The Faculty-Led Richter program allows Oxy faculty researchers to oversee groups of two to three students as part of international projects over the summer.
Together with two other students, Hannah spent three weeks in Jamaica tracking coral reef growth and recovery, a project Stubler started 10 years ago that has generated a valuable long-term data set. The four-person team dove every day, surveying the coral at several sites through measurements and photographs.
"It was really neat for me to get a behind-the-scenes look at how scientific studies work, and how science gets done."
Hannah is interested in continuing with marine biology and is looking at graduate programs.
"Because Oxy is small and I'm so close with a lot of my professors, I can go and talk to them and ask, 'How did you get where you are? What does it look like to be doing this kind of science?' I'd like to find something really specific that I love and study it forever."
Hannah and her colleagues on a dive in Jamaica this summer.