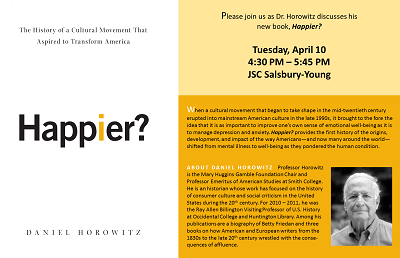 Please join us as Dr. Horowitz discusses his new book, Happier?: The History of a Cultural Movement that Aspired to Transform America.
Date: Tuesday, April 10
Time: 4:30 PM - 5:45 PM
Location: JSC Salsbury Young
About Happier?
When a cultural movement that began to take shape in the mid-twentieth century erupted into mainstream American culture in the late 1990s, it brought to the fore the idea that it is as important to improve one's own sense of emotional well-being as it is to manage depression and anxiety. Happier? provides the first history of the origins, development, and impact of the way Americans—and now many around the world—shifted from mental illness to well-being as they pondered the human condition.
About Daniel Horowitz
Professor Horowitz is the Mary Huggins Gamble Foundation Chair and Professor Emeritus of American Studies at Smith College. He is an historian whose work has focused on the history of consumer culture and social criticism in the United States during the 20th century. For 2010 – 2011, he was the Ray Allen Billington Visiting Professor of U.S. History at Occidental College and Huntington Library. Among his publications are a biography of Betty Friedan and three books on how American and European writers from the 1830s to the late 20th century wrestled with the consequences of affluence.
This lecture was also made possible with support from the Annenberg Fund.