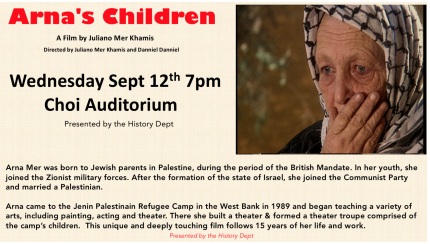 Join the History Department for the film: Arna's Children How the children of a Palestinian theatre group got involved in the Intifadah. 
Date:  September 12
Time: 7:00 PM
Place:  Choi Auditorium
Arna Mer, born to Jewish parents in Palestine during the British Mandate, came to the Jenin Palestinain Refugee Camp in the West Bank in 1989, taught arts, including painting, acting and theater. She built a theater and formed a theater troupe of the camp's children. This film follows 15 years of her life and work.