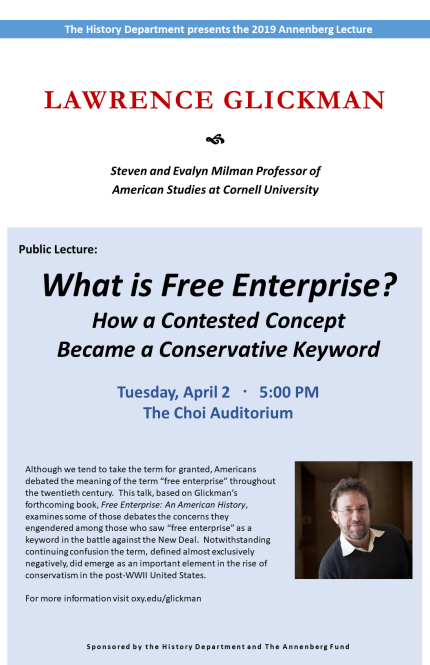 What is Free Enterprise? How a Contested Concept Became a Conservative Keyword
April 2, 5pm
The Choi Auditorium
Although we tend to take the term for granted, Americans debated the meaning of the term "free enterprise" throughout the twentieth century.  This talk, based on Glickman's forthcoming book, Free Enterprise: An American History, examines some of those debates the concerns they engendered among those who saw "free enterprise" as a keyword in the battle against the New Deal.  Notwithstanding continuing confusion the term, defined almost exclusively negatively, did emerge as an important element in the rise of conservatism in the post-WWII United States.
About
Lawrence Glickman is the Stephen and Evalyn Milman Professor of American Studies in the Department of History at Cornell University, and a member of the Cornell's History of Capitalism Initiative. Prior to joining the Cornell faculty in 2014, he taught at the University of South Carolina for many years. He is the author and editor of several books, including, most recently, Buying Power: A History of Consumer Activism in America. His next book, Free Enterprise: An American History will be published in the Fall by Yale University Press. He is currently researching a history of comparative "backlashes" in US history from Reconstruction through Obamacare. He writes occasionally for general audiences in Dissent, the Washington Post, Boston Review, and elsewhere.
Sponsored by the History Department and the Annenberg Fund.