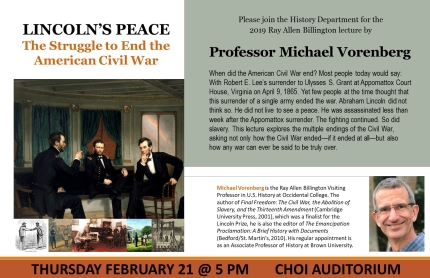 Please join the History Department for the 2019 Ray Allen Billington lecture by Michael Vorenberg, "Lincoln's Peace: The Struggle to End the American Civil War."
February 21, 5pm
The Choi Auditorium
When did the American Civil War end? Most people today would say: With Robert E. Lee's surrender to Ulysses S. Grant at Appomattox Court House, Virginia on April 9, 1865. Yet few people at the time thought that this surrender of a single army ended the war. Abraham Lincoln did not think so. He did not live to see a peace. He was assassinated less than week after the Appomattox surrender. The fighting continued. So did slavery. This lecture explores the multiple endings of the Civil War, asking not only how the Civil War ended—if it ended at all—but also how any war can ever be said to be truly over.
About
Michael Vorenberg is the Ray Allen Billington Visiting Professor in U.S. History at Occidental College. The author of Final Freedom: The Civil War, the Abolition of Slavery, and the Thirteenth Amendment (Cambridge University Press, 2001), which was a finalist for the Lincoln Prize, he is also the editor of The Emancipation Proclamation: A Brief History with Documents (Bedford/St. Martin's, 2010). His regular appointment is as an Associate Professor of History at Brown University, where he has won fellowships from the American Council of Learned Societies and the National Endowment for the Humanities as well as the William McLoughlin Prize for teaching. From 2004 to 2007, he was a member of Brown's steering committee on slavery and justice.
Support for this event was generously provided by the Ray Allen Billington fund.