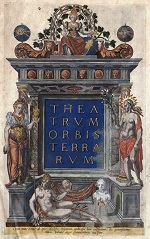 The Bodies and Maps: Personification of the Continents conference takes place at UCLA, January 12 - 13, 2018.
Personifications of the continents of Europe, Africa, Asia, and America abounded in Renaissance and Early Modern Europe. The continents, depicted as female (and sometimes male) figures, appeared in political processions, court performances, ceiling and wall frescos, maps, atlases, frontispieces, poems, travelogues, costume books, prints, paintings, textiles, ceramics, sculptures, wood pulpits, and sculptured tympanums. While the rise in the popularity of these images in the early modern period may well have been related to encounters in the Americas, which increased the number of continents in the European imagination beyond the Ptolemaic three, the tradition of personifying the continents extends back to the early middle ages and has continued to the present day. Throughout the history of this tradition, the number of continents has changed along with their human representations to reflect and reinforce ideas of both self and other.
The conference will bring together art historians, historians of cartography, and literary scholars to explore the phenomena of continent personifications and their significance for cultural history.
Visit the event webpage for more information.