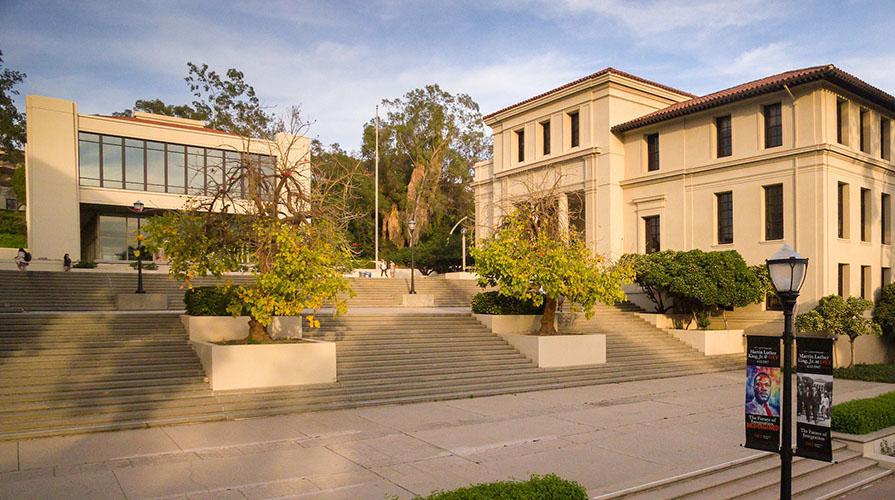 Emily Jo Wharry '20, double major in history and politics and winner of the History Department's 2020 Hardy Prize for Best Senior Thesis, offers a powerful critique of the administration's inadequate response to the harm caused by recent anti-Asian racist and xenophobic student texts as well as wise recommendations for forging a path towards meaningful community action and healing.
Letter to the Editor: My alma mater should take healing into its own hands
By Emily Jo Wharry
February 9, 2022
Not a great start to the Year of the Tiger.
At Occidental College, a screenshot of a text conversation between two students surfaced on social media. In it, one student repeats their desire to see all Asians die.
Reading their texts, I laughed. There's a delightful absurdity to racism that you can cling to so as to not feel its scorching hatred. But reading the college's response, in which it declined to pursue any accountability measures, I felt a pit form in my stomach, equal parts distress and anger.
It is painful to see your alma mater mishandle racism expressed in such blatantly violent language. As a Filipina student, I treasured the time and space I shared with my Asian peers and professors. I watched them transform the pressures of generational trauma and weary immigrant parents into diamonds that Occidental could show off in institutional reports and glossy magazines. I felt grateful to our school for bringing us together.
Now, it aches to know that we poured ourselves into bettering this college, only to find that the feeling is far from mutual.
Every time Occidental is confronted with trauma that presents an opportunity for transformative change, it falters, failing to offer its students anything beyond "support and resources." You'll see these consolation prizes sprinkled across every campus-wide memo — platitudes to seek out counseling, office hours and programming events in order to self-soothe your pain. But by placing the responsibility for healing on its students, Occidental sheds itself of accountability, stripping its social justice pillars of any authenticity.
I am especially embarrassed to see restorative justice offered up as one of these consolation prizes. Restorative justice is not a Band-Aid best plastered as a reactive approach to community harms; it requires concentrated, committed, strategic investment on behalf of the college. If it wants to make serious use of restorative justice, Occidental needs to consider the deeper implications of this harm coming from within — from "one of our own," as President Harry Elam said. I recoil at those words. I cannot fathom the idea of my Asian classmates having to share a physical space and intellectual community with someone who wants them dead. And I wonder, in a restorative framework, if this is even fair to ask of them.
It is not the victims' obligation to forge a path toward healing. Individualized counseling, empathy-themed programming, external expert consultations and cultural competency workshops aren't enough. This is a shared, gaping wound that will not heal until the students who committed this harm take accountability. The college is responsible for creating this opportunity and shepherding its process.
Accountability does not need to occur within the framework of the law. In fact, an authentic community of care should not take its lead from a punitive legal system. Institutional leadership is currently choosing to shield these students — and themselves — behind the excuse of not having a perfect-fit legal threshold to justify punishment. Instead, they can give these students the most vital learning moments of their lives: how to accept responsibility, listen to the pain of others and unlearn racism that, if left unchecked, will only continue to wreak havoc on others' lives for years to come.
As evidenced by their open letter, students are longing for an institution where actions synchronize with words and uproar is met with healing. I am disappointed in the college's lack of imagination and innovation in failing to heed the community's call to approach this as a powerful learning moment. Student affairs research tells us that colleges, especially residential liberal arts campuses, provide young adults the rare opportunity to learn tough lessons on relational skills in a scaled-down, forgiving setting. Occidental is doing a disservice to its students by depriving them of this.
Cynically, I suspect that Occidental would rather take advantage of the easier route: to patiently outlive any student uproar. In these moments of tension, institutional leadership can simply wait out the four-year turnover of its student body until storms like the Arthur G. Coons Administrative Center (AGC) Occupation, federal complaints of mishandling sexual assault cases and a trustee in blackface blow over into distant memory.
My first tour of the campus collided with a demonstration led by Black students calling for equity. Now, as an alumna, I urge the college's leadership to no longer sit and wait out the storm, but instead find the courage to break its own cycle.