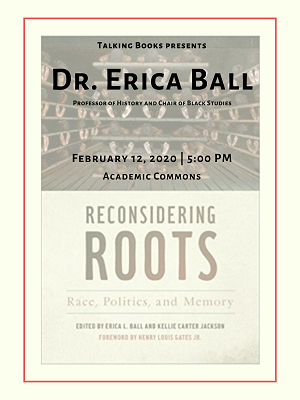 Join us for a talk by Oxy's own Dr. Erica Ball, Professor of History and Chair of Black Studies, about a collection of essays about race, gender, violence, and power.
Dr. Ball will discuss Reconsidering Roots: Race, Politics, and Memory, a collection of scholarly essays she edited. The book assesses the ways that the wildly popular book and its 1977 television adaptation recast representations of slavery and the black family, reflected on the promise of freedom and civil rights, and generated discussions about race, gender, violence, and power in the United States and abroad.
The event will be held this Wednesday, February 12th, 2020, at 5:00pm in the lobby of the Academic Commons.
Talking Books is a program curated by the Library since 2017 that promotes book culture by offering authors and artists an opportunity to share their work with an intellectually hungry audience. The program is designed to advance intellectual discourse at Occidental College by diving head first into the relationship between the creative process and the realities of producing art within the framework of information literacy.