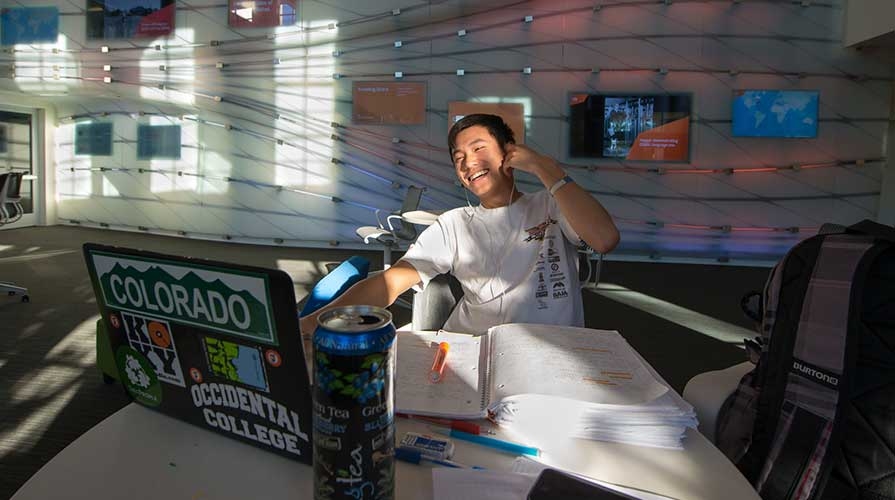 You have four years. Let's make them count.
College is more than books, tests and papers. It's a time to gain the skills and knowledge that you will need to lead in an increasingly complex world.
That's why we expect you to achieve five learning goals throughout your time at Oxy. Not to worry, preparing you to achieve these goals is what we do best, and the entire College is here to support you.
Five Learning Goals of Occidental College
Occidental College understands its educational goals as an evolving dynamic commitment: they are the basis for assessment, subject to constant re-evaluation and re-imagining. Within this culture of self-aware and rigorous critique, our interdisciplinary approach to the liberal arts promotes student achievement of five college-wide learning goals. These include:
Synthesis of ideas across broad areas of knowledge within the liberal arts
Linkage of theory and practice within group and self-directed research leading to intellectual or creative contributions
Mastery of essential content, methods, concepts and technical aspects of an academic discipline
Development of the following key intellectual skills:

Analytic inquiry and problem solving
Communication through writing, oral presentation, and creative expression
Critical reading, writing, and thinking
Critical Self-Awareness
Ethical Reasoning
Analysis of media and images
Quantitative reasoning
Scientific methodology

Capacity for active intellectual community engagement by:

Community learning, participation, and service
Ethical reasoning and action
Global, intercultural and socio-political awareness
Leadership and collaboration
Personal well-being
Respectful engagement with diverse perspectives
For more information on how we are assessing these college-wide learning goals, please visit the Department of Institutional Assessment and Accreditation.