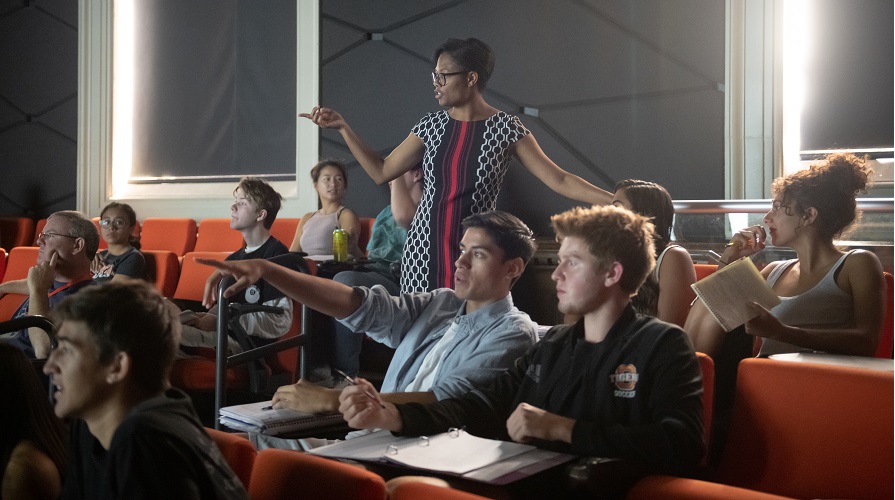 In the 2020-21 CSP seminars, students develop their analytical and writing skills in an intensive focus on topics drawn from a variety of academic disciplines and cultural perspectives.
Spring 2021 CSP Seminars
Fall 2020 CSP Seminars
Supplemental Information 
For Fall 2020 instructors have provided supplemental information about selected CSP seminars. This information can assist students in maknig informed decisions about which CSP seinars to register for.
CSP Plus Seminars
Each year the Core Program offers a few special CSP courses that allow students to explore a topic in more depth. While standard CSP seminars earn 4 units, these CSP Plus courses earn students 8-units or more. (Students typically enroll in 16-18 units per semester.) CSP Plus courses are usually taught by more than one faculty member and either have expanded meetings or, in some cases, are connected to a 4-unit CSP seminar with a 4-unit course in another department. CSP Plus courses provide both students and faculty with opportunities to experiment, discover, and innovate within an exciting educational environment.
CSP 1: (Im)migrant Communities of California (16 units) 
Cortes, J. (Diplomacy & World Affairs); Christianakis, M. (Critical Theory & Social Justice); Mora, R. (Sociology);
This course offers students the opportunity to analyze the sociohistoric, legal, and cultural tensions surrounding various (im)migrant communities in California. Students will explore the various waves of (im)migration across time to understand the diverse communities of California. Students will also build critical and interpretive capacities through the examination of state policies, statistics, and various historical and empirical studies. Additionally, through the construction and revision of several expository, research-based writings on immigration, students will hone their writing, argumentation, and presentation skills. 
This course is part of the California Immigration Semester, and is open only to first-year students simultaneously enrolled in CSP 1, CTSJ 105, DWA 282 and SOC 105.
Back to top
CSP 2: Explusions: Un/documented Migrants, Refugees, and the Stateless (8 units)
Chase, A. (Diplomacy & World Affairs); Ear, S. (Diplomacy & World Affairs); Hong, J. (History);
"Expulsions" is a special 8-unit CSP course taught by a team of three faculty members. Most courses at Occidental are 4-units, so "Expulsions" would count as two courses on your fall schedule. In addition to satisfying the Fall CSP requirement, this 8-unit course fulfills the Core Global Connections requirement and will count as an elective for students who go on to major in Diplomacy and World Affairs (DWA). 
Back to top
Standard CSP Seminars
CSP 3 — Monsters in Novel and Film: Imagining Race, Nation and Class
Montag, W. (English)
We often think of popular culture as a kind of distraction; we watch films or read novels to escape the real world and its problems. If this were the case, there would be no point in studying monsters in literature and film. This course will begin by rejecting these assumptions. When we examine the history of the idea of the monster and look closely at particular modern monsters, such as Frankenstein's monster and Dracula, we can see that the horror they inspire concerns certain social and political anxieties: 1) anxieties about the purity and impurity of race, nation, and culture; 2) anxieties about who, within a community, belongs and doesn't belong (and how this belonging is defined); 3) anxieties about those who appear unable or unwilling to assimilate and are defined as a threat to the body in which they have no place. Novels and film dramatize these anxieties in ways that allow us to understand both how they arise and the terrible consequences to which they have often led. Finally, we will ask why race is foregrounded in the contemporary zombie film (a genre that has its origins in the former slave colony of Haiti) and what reality is captured in one its most important conventions, the "necessary" killing of children. We may discover that these forms of popular culture reveal what is most disturbing and dangerous about the societies that produce them, not least our own.  
Back to top
CSP 4 — 
Nero: Roman Literature and Culture in a Time of Madness
Mackey, J. (Comparative Studies in Literature & Culture)
The Roman emperor Nero reigned from 54 to 68 CE. According to ancient accounts, he was a madman. He murdered his own mother, assassinated opponents, burned down sections of the city of Rome, and executed Christians. He was also a poet and a singer, performing to packed theaters. Most people, unaware of his dark side, loved him for his extravagant and popular style. But those closer to him feared and hated him. A group of them conspired to assassinate him, including the philosopher Seneca, and the poet Lucan, who was a friend of Nero's from youth. We shall read works by these and other authors in order to try to see Nero and Neronian culture through the eyes of ancient historians, such as the senator Tacitus and the Jewish general Josephus, biographers, such as Suetonius, philosophers and tragic playwrights, such as Seneca, satirists, such as Persius, and comic novelists, such as Petronius.These ancient works will open up a variety of questions relevant to us now,such as: What is the role of the arts in a time of tyranny? How do contemporary concerns color the work of historians writing both during and decades after the period they are describing? How should philosophers and other "intellectuals" respond to a tyrant?
Back to top
CSP 5 — Our New  Computer Overlords, or: Why Oxy Rejected Emojis for This Title but Allowed it for the Descri
Li, J. (Computer Science)
From social media to high-frequency trading, from self-driving cars to recidivism prediction, computers have pretty much taken over our world. While technology has given us Netflix and Tinder, it has also brought new problems to society. Computational gerrymandering and the subversion of democracy through targeted social media campaigns continuously make headlines. Algorithms that know you are pregnant before you tell your parents, or that discriminate against people of color in beauty contests, are no longer science fiction but reality. How did we come to create our new computer overlords? And more importantly, what do we do now? Reading broadly from scientific and news articles as well as research and personal blogs, students will complete the course with an understanding of the societal problems that algorithms try (and often fail) to solve, and gain a healthy skepticism for purely technological solutions to complex issues.
Back to top
CSP 6 — Psychosocial Determinants of Health Disparities
Cabral, P. (Psychology)
Disease prevalence, severity, and treatment varies across sociodemographic groups. Understanding why health disparities occur is key to determining how inequalities might be alleviated. Central to detangling health disparities are psychological, socio-cultural, cognitive processes, and behaviors that are related to ethnic, cultural, and gender identity experiences. The focus of this course is on research that a) describes health disparities, b) investigates factors that explain differences, and c) proposes interventions to treat at-risk populations. This course will emphasize the theme of equity in health across multicultural groups.
Back to top
CSP 7 — Bohemias
Lukes, H. (American Studies)
What is Bohemia? Variously construed as a space, a style, a phase, and a form of subculture, the concept of Bohemianism captures images of rebellion, artistic production, urbanity, youth, altered states, and sexual experimentation. This course tracks the history of Bohemia and bohemians from their origins in nineteenth-century Paris, London, and Berlin to the twentieth-century United States. Tracking a cast of characters including hipsters, hippies, outcasts, queers, punks, pachuchas, starving artists, and beatniks, we will analyze historical writings, literature, music, and film while asking if the twenty-first century still has the time and place for bohemia.
Back to top
CSP 9 — 
Asian/American Communities Writing for Social Change
Sarmiento, C. (Writing Program)
In this course, students will explore writing as a practice that is socially constructed by people across time and space and within specific cultural contexts. To do this, students will learn to analyze writing beyond the more familiar approaches of textual analysis, which is to interpret and critique. In these familiar cases, writing is understood as a final published product with a single or small group of authors. Drawing from theoretical frameworks that position writing as a social practice, we will explore the larger inquiry: How have Asian/American communities used writing and rhetoric to respond to social injustices? Students will read qualitative studies that demonstrate how methods of textual analysis (e.g. discourse analysis, textual analysis, narrative analysis, rhetorical analysis) can be used as analytical lenses to trace the diverse texts and literacy practices of various communities. We will also discuss the limitations of these methods by exploring the scholarship in cultural rhetoric that critique traditional ideas of what counts as writing and rhetorics of resistance. Using these tools and analytical framework, we will take up the following inquiries throughout the semester: What literacy practices and texts have Asian/American communities developed historically to respond to social inequity? What are contemporary modes of digital writing or hybrid genres of writing that Asian/American communities have used to respond to social injustices affecting their communities? How can archives be used to explore how Asian/American communities in the U.S. have used writing to enact social change? How have Asian/American communities used writing to respond to social injustices on a personal and political level? What role has gender and race played in reading what is defined as writing and rhetorics of resistance?
Back to top
CSP 10 — Sport in Film
Mehl, L. (Kinesiology and Psychology)
From The Freshmen (1925) to Rocky (1976) to Bull Durham (1988) to Remember the Titans (2000) to Blue Crush (2002) to Bend It Like Beckham (2002) to The Fighter (2010) sport has been a central theme in film for close to a century. This course will explore such topics as race and class, gender, sexual orientation as depicted in sport film. Students will explore additional topics including motivation, personality, friendship, competition and group dynamics through film (an additional two hours per week is spent viewing films).
Back to top
CSP 11 — Energy for Future Presidents
Sadd, J. (Geology)
Energy made the modern world, and we depend on it for the future we want. It drives many of the great challenges to human society and our future. During your lifetime, we have experienced continual upheavals in the Middle East that are largely driven by global petroleum markets, the near meltdown of the Fukushima Daaichi nuclear facility, two of the three largest oil spills in history, the controversy of climate change, and many other geopolitical and environmental impacts associated with the extraction, transformation, transport and consumption of different forms of energy. This course is an introduction to a deep understanding of the science behind the headlines, and its importance to governing, economic sustainability and growth, and to our collective future, so that we can make informed, responsible decisions.
Back to top
CSP 12 — 
From Low Culture to High Art: The Evolution of Comics and Graphic Narrative
Villa, R. (Latin@ and Latin-American Studies)
Comic books were once viewed as the lowest form of mass culture, and even considered an intellectual and moral threat to young people. Today, "graphic literature" is a celebrated medium supported by a mainstream apparatus of publication and criticism. We will study the history of this hybrid medium, from its origins as disposable children's fare to its current array of serious adult genres (novels and short stories,memoir, documentary journalism, and biography). The emphasis will be on American comix, but some attention may be given to international works in translation. This course may be particularly attractive to students interested in the creative arts and humanities,but the variety of course texts and contents should appeal to students with broad topical interests in 20th century history and culture.
Back to top
CSP 13 — We Have Something in Common: Literary Ideas and Illustrations of Community
Fromm, D. (Core Program)
Community is something we largely take for granted. It is a notion around which we organize our lives, as we all belong to and participate in various communities—from our neighborhoods, to our interest groups, to our nations—yet, at the same time, it is a notion we often struggle to understand or explain. What is a community, exactly; how and when do we belong to one, and what does such belonging mean to our sense of personal and social self? Literature has long meditated on these questions, from essays on the meaning and nature of community to stories about different communities, and their struggles to articulate and develop their shared sense of purpose. This course will read through a selection of these efforts, from essays by Raymond Williams and W.E.B. Du Bois to novels by Thomas Hardy and Karen Rei Yamashita, with the goal to understand better how different communities come into being, what they aim to accomplish, and how or why they succeed and fail.
Back to top
CSP 14 — Nature from the Inside Out
Ostendorf, S. (Writing Program)
In this course students will study the writing and rhetoric of nature and wanderlust, with particular emphasis on California as a place of exceptional natural beauty and a locus of adventure in the cultural imagination. We will read literature, critical theory, scientific texts, and culture writing in order to explore nature from the inside out--in other words, from individual affective and psychological relationships to nature to the broader effects of nature on culture and identity. In keeping with our theme, we will not only study these ideas inside our virtual classroom; we will also incorporate our own individual adventures in nature, in California or elsewhere. Hand-in-hand with the study of nature, this course will provide intensive training in writing at the college level, with assignments designed to deepen your understanding of our course topics while focusing on specific elements of successful academic writing.
Co-requisite: This CSP is part of the California Environment & Conservation Corps Oxy Immersive Semester. All seats will be reserved for students who followed the enrollment instructions on the Oxy Immersive Semester page.
Back to top
CSP 15 — Literature and Philosophy: The Dionysian in Modern Thought
Stocking, D. and Mitsunaga-Whitten, S. (Comparative Studies in Literature & Culture)
More than simply a "god of wine," Dionysus was for the Ancient Greeks a god of ecstatic self-abandon, of gushing fertility, of violent dismemberment and unexpected rebirth. In myth he was attended by raving Maenads and mischievous Satyrs; amongst humans he was worshipped with festive dances, communal shouts, ritual obscenities, and (perhaps most importantly) with poetry — with the literary genres of ode, comedy and tragedy that were invented specifically to honor him. What could be farther, we might ask, from the cool, reasonable practice of philosophy than this wild, uncanny, irrational god? And yet, as we shall see in this class, this reckless god of madness and poetry stands at the foundation of some of the most important ideas in modern philosophy — Hegel's phenomenology of spirit, Nietzsche's will to power, Heidegger's philosophy of Existenz, Bataille's notion of excess, and Derrida's "non-concept" of differance. Beginning with an exploration of Dionysian poetics in Ancient Greece, this course will attempt to show what thinkers like these found so inspiring in this ancient god, and what the writers and thinkers of our own time might yet find in him still.
Back to top
CSP 16 —  Spinning Science: How Storytelling Drives the Perception and Progress of Science
Muren, N. (Chemistry)
In this course students will develop a sophisticated understanding of the nature and process of scientific inquiry and communication, tracing the development of scientific information from original measurements to online broadcasts. Students will hone the skills necessary to evaluate and utilize scientific information reported in both peer-reviewed journals and popular media sources. Practice in reading primary scientific articles for comprehension, writing clearly about scientific topics for a broad audience, and delivering engaging scientific presentations will be a major focus of this course. Overall, students will gain perspective on how scientific knowledge is established and communicated to inform the actions we take as a society and in our personal lives.
Back to top
CSP 17 — Slavic Paganism: Myth, Ritual, and Thought
Sushytska, Y. (Comparative Studies in Literature & Culture)
This course will introduce key concepts and topics of Slavic folklore and mythology, and consider their philosophical ramifications. We will focus primarily on the historical accounts, legends, customs, and fairy tales of Eastern Slavs (present-day Russia, Ukraine, and Belarus), but will also discuss Central Asian shamanism and Scythian female warrior culture. We will analyze representations and adaptations of these myths and rituals in literature, film, and art. No background knowledge required. All readings and discussions are in English.
Back to top
CSP 18 — Putting Animals on Trial: Exploring Medieval Environmental Ethics
Renton, K. (Religious Studies)
Putting a pig on trial for murder? Bringing a swarm of locusts before the law for a failed harvest? In the Middle Ages, animals sometimes appeared on the witness stand. Trial records reveal radically different historical conceptions of animal sentience, ideas of justice, and relationships between man and the natural world. This class explores individual cases of animal trials to learn about the medieval European environment, in both the literal and metaphorical sense, and the lessons it holds for contemporary debates about animals, personhood, and environmental ethics.
Back to top
CSP 19 — Jerusalem: Holy City
Lanfer, P. (Religious Studies)
According to G.A. Smith in his Historical Geography of the Holy Land, Jerusalem "stands aloof, waterless, [and] on the road to nowhere." Yet, despite its geographic, agricultural, and economic limitations, Jerusalem has been transformed into a city of tremendous religious significance. This course will examine the cultural history of Jerusalem over three millennia, primarily as the symbolic focus of three faiths: Judaism, Christianity, and Islam. By examining the artifacts, architectural monuments, and iconography of Jerusalem in relation to written sources, students will explore the dynamic relationship between the real and the mythic Jerusalem. Students will compose papers involving close readings of primary sacred literature; cross-disciplinary engagements with texts, lived traditions, and archaeology; and implications of the historical evolution of the city of Jerusalem on the middle east crisis and political situations of modern Israel.
Back to top
CSP 20 — Race and the Race for the White House
Speer, I. (Core Program)
In this course we will explore the connections between race/ethnicity and American politics, with particular attention to current events and issues. The course will begin by examining the social construction of race/ethnicity, and the role that American political institutions have played in its construction. Then, drawing on cutting-edge research in Political Science and Sociology, we will learn about how and why race has become a central fault line in American electoral politics. We will also think critically about the extent to which the U.S. is a "democracy," given the persistence of racial inequalities, and the potential to make a more equal and just society.
Back to top
CSP 22 — Identity Politics and Intersectionality: Who am/are I/we in 2020?
Zachary, A. (Core Program)
This course will examine various texts from different genres including popular literature, digital media, and scholarly essays, which seek to theorize the importance of standpoint and location as a way of forming political alliances along the intersections of gender, race and class. Long established arguments in support of identity and intersectionality have advanced critical examination of the varying systemic inequities marginalized groups experience, however, in 2020 we see a new identity politics rooted in whiteness and seemingly fueled by notions of white supremacy. Questions will be asked about the changing face of identity politics. Are we in a post-identity politics age? Or as some scholars contend does identity politics distract us from issues such as the growing income gap between the rich and everyone else? Has intersectionality been redefined to the point of irrelevance? What identity groups should be encouraged or discouraged, and what actions based on identity can aid or impede democratic justice? Students will engage in discussion, critical reading, and written analysis introducing vigorous academic discourse as essential to the first-year college experience.
Back to top
CSP 24 — All That Glitters: Life and Literature in Los Angeles
Elam, J. (Core Program)
Norman Mailer described Los Angeles as a "constellation of plastic." John Fante called it a "sad flower in the sand." Is Los Angeles really just "72 suburbs in search of a city," as Dorothy Parker claimed, or is there something else brewing beneath the beautiful, sunny skies? We'll explore (through art, films, and books) 20th and 21st century Los Angeles as both a real and imagined location. Through the completion of short papers and one long paper, you'll craft your own conceptual "map" of the place. Required texts will likely include Nina Revoyr's Southland, Joan Didion's Play It As It Lays, Evelyn Waugh's The Loved One, Helena Maria Viramontes's Their Dogs Came With Them, Kate Turabian's Student's Guide to Writing Research Papers (5th edition), and an assortment of short readings (both fiction and non-fiction/historical). Please note that some of the texts for this course may be disturbing. Please contact the instructor if you have any questions.
CSP 25 — Utopias and Dystopias
Sardo, M. (Core Program)
The utopian instinct – the desire to imagine a perfect society without war, violence, suffering, or injustice – is a fundamental human impulse. Images of political perfection can be found throughout cultures and across history. Yet, since the middle of the twentieth centuries, dystopian nightmares seem to occupy the political imagination far more frequently. Are utopias naïve acts of wishful thinking at best and totalitarian blueprints at worst? Or do contemporary political challenges, from economic inequality to climate change, demand new forms of utopian thinking? Looking at utopias and dystopias in both political philosophy and literature, this course will explore these themes, with the goals of understanding not only the particular utopian dreams and dystopian nightmares, but also the broader functions and goals of politics and political theory. Reading selections from Plato, Thomas More, Margaret Cavendish, Karl Marx and Friedrich Engels, Aldous Huxley, Octavia Butler, as well as studying actual utopian movements and communities, this course will also critically examine cornerstone political values, including, freedom, equality, community, hope, and justice.
Back to top
CSP 27 — Modern and Contemporary Art
Lyford, A. (Art and Art History)
This course will explore the diverse forms of visual culture and artistic practice since 1945, with a special focus on LA and Southern California. We will investigate questions about artistic identity, the status and function of art, and the changing nature of artistic practices in the wake of the social, cultural and economic changes from the 1960s to today. We'll focus on new forms of art practice, and ways artists and cultural practitioners engage with and shape movements advocating for civil and human rights, environmental and social justice, and art world politics.
Co-requisite: This CSP is part of the Arts in Los Angeles Oxy Immersive Semester. All seats will be reserved for students who followed the enrollment instructions on the Oxy Immersive Semester page.
Back to top
CSP 28 — Being With People
Morrissey, C. (Philosophy)
In this course students will consider the moral dimensions of our relationships to one another, paying special attention to the relationship between healthcare workers and their patients. Readings will be drawn from philosophical accounts of what we owe to one another as people, focusing on the nature and value of solidarity, and the responsibility to and value of being "with" one another. Through this study, students will deepen their understanding of the structures and processes of privilege, exclusion, and marginalization that shape healthcare in the United States.
Co-requisite: This CSP seminar is part of the PPE Portrait Project Oxy Immersive Semester. All seats are reserved for students who followed the enrollment instructions on the Oxy Immersive Semester page.
Back to top
CSP 29 — Emerging from Chaos: Re-Thinking Experiences of Suffering
Graeser, N. (Core Program)
Societies and individuals are shaped by experiences of chaos and suffering. Yet, modern conceptions of suffering and chaos are seen as weakening people or societies. This course will explore the many examples of how chaos brings about reform, revolution, and re-imagined forms of resiliency. We will explore examples of post-war and post-disaster scenarios as understood by historians, scientists and psychologists, and consider the ways in which suffering transforms individuals and can generate healthy and adapted systems. Final projects will conclude with a modern application of theories and examples from class and discussion, either personal or societal, that explore ways that chaos and suffering can be transformed to help build a better you or a better world.
Back to top