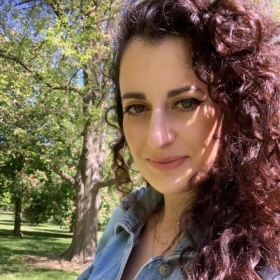 Visiting Assistant Professor, American Studies
B.A., Oberlin College; M.A., California College of the Arts; P.h.D., University of California, Davis
Hours:
Mondays and Wednesdays from 12-1:30pm, or contact for alternative meeting times or virtual appointments.
Alexandra Fine teaches courses in disability studies, queer theory and sexuality studies, and American studies methods.
Alexandra received her PhD in Cultural Studies with a Designated Emphasis in Critical Theory from the University of California, Davis in 2021, her MA in Visual and Critical Studies from California College of the Arts, and her BA in Comparative American Studies from Oberlin College. In her dissertation, entitled "Enduring Rehabilitation and Addressing Alterity: Interventions within American Cultures of Care and Cure," she examines cultures, rhetorics, and tactics of rehabilitation in the U.S., specifically focusing on programs geared towards recovery from alcoholism and addiction, and alternative approaches to care offered through harm reduction and mutual aid. Alexandra's research focuses on identity and embodiment, health and care, equity and access, visual culture, affect, and temporality.