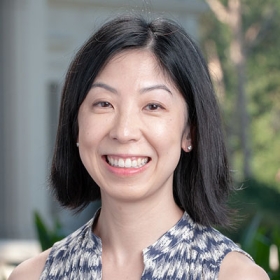 Laurence de Rycke Professor of Economics
B.A., UC Berkeley; Ph.D., MIT
Hours:
M 2-2:55pm, Tu 3:05-4pm, Th 11:35am-12:30pm
Lesley Chiou's research is in the areas of Industrial Organization and Applied Econometrics. Her recent work focuses on consumer behavior and firm strategy on the Internet.
Research
Professor Chiou's primary fields of interest are Industrial Organization and Applied Econometrics. Industrial Organization or competitive strategy explores how firms interact strategically and the implications of government competition policy. Applied Econometrics uses data and statistical tools to test predictions of economic theory or to evaluate outcomes of government policies.
Professor Chiou's current research focuses on consumer search and firm competition on the Internet. In particular, she examines the business practices of search engines and social media sites, ranging from online advertising to copyright on the Internet. Her prior work also studies how online and offline firms compete; how consumers respond to pricing changes in retail markets; and how demand evolves for arts and media markets.
Please click here for a 2-min video that describes two of Professor Chiou's recent research projects.
Papers under Review
Published and Forthcoming Papers
How Does Pharmaceutical Advertising Affect Consumer Search?
with Catherine Tucker, Management Science, Vol. 68, pp. 866-882, 2021.
 
Search Engines and Data Retention: Implications for Privacy and Antitrust
with Catherine Tucker, Chapter in Competition Policy International's The Evolution of Antitrust in the Digital Era: Essays on Competition Policy, Volume II, 2021.
Featured in Harvard Business Review.
 
Internet Use, Competition, and Geographical Rescoping in Yellow Pages Advertising
with E. Nilay Kafali and Marc Rysman, Information Economics and Policy, Vol. 52, 2020.
 
Trust, Reputation, and Bidding Behavior in Online Mystery Auctions
with Jennifer Pate, Applied Economics Letters, Vol. 25, pp.702-706, 2018.
 
Vertical Integration and Antitrust in Search Markets
Journal of Law, Economics, and Organization, Vol. 33, pp.653-685, 2017.
 
Content Aggregation by Platforms: The Case of the News Media
(Earlier versions of this paper were circulated under the titles "Copyright, Digitization, and Aggregation" and "News and Online Aggregators.")
with Catherine Tucker, Journal of Economics and Management Strategy, Vol. 26, pp. 782-805, 2017.
 
Consumer Response to Tax Changes
with Erich Muehlegger, National Tax Journal, Vol. 67, pp. 621-650, 2014. (Online Model Appendix)
 
Paywalls and the Demand for Online News
with Catherine Tucker, Information Economics and Policy, Vol. 25, pp. 61-69, 2013.
 
How Does the Use of Trademarks by Third-Party Sellers Affect Online Search?
with Catherine Tucker, Marketing Science, Vol. 31, pp. 819-837, 2012.
 
The Effect of Ticket Resale Laws on Consumption and Production in Performing Arts Markets
with Melissa Boyle, Eastern Economic Journal, Vol. 38, pp. 210-222, 2012.
 
The Reality of Reality Television: Does Reality TV Influence Local Crime Rates?
with Mary Lopez, Economics Letters, Vol. 108, pp. 330-333, 2010
 
Internet Auctions and Frictionless Commerce: Evidence from the Retail Gift Card Market
with Jennifer Pate, Review of Industrial Organization, Vol. 36, 2010.
 
Empirical Analysis of Competition between Wal-Mart and Other Retail Channels
Journal of Economics and Management Strategy, Vol. 18, 2009. (Lead article)
 
Broadway Productions and the Value of a Tony Award
with Melissa Boyle, Journal of Cultural Economics, Vol. 33, 2009.
 
Crossing the Line: Direct Estimation of Cross-Border Cigarette Sales and the Effect on Tax Revenues
with Erich Muehlegger, The B.E. Journal of Economic Analysis and Policy (Contributions), Vol. 8, Article 48, 2008.
 
The Timing of Movie Releases: Evidence from the Home Video Industry
International Journal of Industrial Organization, Vol. 26, 2008. (Winner of journal's Paul Geroski Best Paper Award)
 
Identification and Estimation of Mixed Logit Models under Simulation Methods
with Joan L. Walker, Journal of Econometrics, Vol. 141, 2007. Reprinted in Choice Modeling: Foundational Contributions, edited by David A. Hensher and John M. Rose, 2011.
Policy Writing
Teaching
Professor Chiou teaches courses that span all levels of the curriculum.
Econ 250: Intermediate Microeconomic Theory
Econ 272: Applied Econometrics
Econ 302: Industrial Organization
Econ 495: Senior Seminar
Econ 498: Honors Seminar