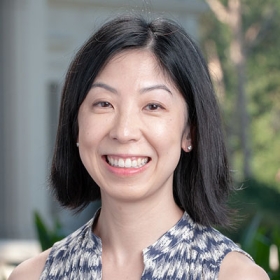 B.A., UC Berkeley; Ph.D., MIT
Department Chair, Economics
Hours:
M:1:30-2:55pm, T:2:30-3:25pm, Th:1:30-1:55pm
Please send questions for the department chair to econ@oxy.edu.
Lesley Chiou's research is in the areas of Industrial Organization and Applied Econometrics. Her recent work focuses on consumer behavior and firm competition on the Internet.
Research
Professor Chiou's primary fields of interest are Industrial Organization and Applied Econometrics. Industrial Organization explores the behavior of firms. What explains a firm's acquisition and use of market power? How do firms interact strategically? What is the role of government competition policy? Applied Econometrics uses data and statistical tools to test predictions of economic theory or to evaluate outcomes of government policies.
Professor Chiou's current research focuses on consumer search and firm competition on the Internet. In particular, she examines the business practices of search engines and social media sites, ranging from online advertising to copyright on the Internet. Her prior work also studies how online and offline firms compete; how consumers respond to pricing changes in retail markets; and how demand evolves for arts and media markets.
Papers under Review
Published and Forthcoming Papers
Teaching
Professor Chiou teaches courses that span all levels of the curriculum.
Econ 250: Intermediate Microeconomic Theory
Econ 272: Applied Econometrics
Econ 302: Industrial Organization
Econ 495: Senior Seminar
Econ 498: Honors Seminar