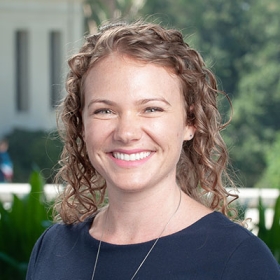 Assistant Professor, Spanish and French Studies; Advisory Committee, Group Languages
B.A., Gordon College, Massachusetts; M.A., University of Illinois, Chicago; Ph.D., UCLA
Hours:
On Sabbatical - Fall 2019
Mariška Bolyanatz is a Hispanic Linguist whose work focuses on socially conditioned variation in speech production and perception in Spanish.
Dr. Bolyanatz uncovers the social meanings attached to phonetic variants, and determines what implications these associations have for speakers and their interlocutors.
Her dissertation, "Plural production and perception in Santiago Spanish," examines the phenomenon of plural -s deletion in Chilean Spanish. Her analysis of novel acoustic measures on the vowel preceding the deleted plural -s revealed nascent changes in progress. Specifically, young speakers use distinct acoustic cues to differentiate singular and plural words according to their respective socioeconomic groups, while older speakers have completely neutralized this contrast. She argues that these vocalic strategies are a dialect-internal innovation, motivated by phonetic, morpho-phonological, and social factors.
Courses taught:
At Oxy, Dr. Bolyanatz has taught Spanish 102 (second-semester introductory Spanish), Linguistics 301 (Introduction to Linguistics), and Spanish 342 (Spanish in the United States). Dr. Bolyanatz's pedagogical strategies are geared toward creating an inclusive classroom environment in which students from all backgrounds can explore everyday language use and relate it to issues beyond the academy. As a component of a liberal arts education, these courses require students to develop pattern recognition and data analysis skills and foster their awareness of the linguistic and social systems undergirding language use.