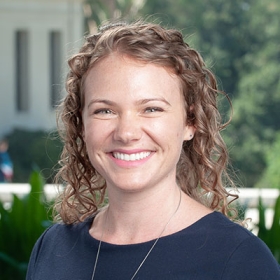 Assistant Professor, Spanish and French Studies
B.A., Gordon College, Massachusetts; M.A., University of Illinois, Chicago; Ph.D., UCLA
Hours
Mondays 1PM-2PM and Wednesdays 2PM-4PM
Mariška Bolyanatz Brown (IPA: [məˈɾiʃkə boʊliˈɑnɪts bɹɑʊn]) is a linguist whose work focuses on socially conditioned variation in speech production and perception in Spanish.
Read her Oxy Story profile.
Prof. Bolyanatz Brown uncovers the social meanings attached to phonetic variants and determines what implications these associations have for speakers and their interlocutors.
Courses taught
At Oxy, Prof. Bolyanatz Brown has taught the following courses:
Spanish 101 (first-semester introductory Spanish)
Spanish 102 (second-semester introductory Spanish)
Spanish 342 (Spanish in the United States)
Spanish 343 (Spanish Sociolinguistics)
Linguistics 301 (Introduction to Linguistics)
Linguistics 351 (Phonetics)
Her pedagogical strategies are geared toward creating an inclusive classroom environment in which students from all backgrounds can explore everyday language use and relate it to issues beyond the academy. As a component of a liberal arts education, these courses require students to develop pattern recognition and data analysis skills and foster their awareness of the linguistic and social systems undergirding language use.
Publications
Refereed Journal Articles
Refereed Book Chapters
A sociophonetic account of coda liquid neutralization in Santiago Spanish. 2021. Lingüística del castellano chileno: Estudios sobre variación, innovación, contacto e identidad (Eds. Brandon Rogers and Mauricio Figueroa; Chapter 7), pp. 165-192. Link to book via publisher page.

Bolyanatz Brown, Mariška and Brandon Rogers. 2019. Social perception of intervocalic /k/ voicing in Chilean Spanish. Recent Advances in the Study of Spanish Sociophonetic Perception (Ed. Whitney Chappell; Chapter 7). Complete PDF
Conference Proceedings
Bolyanatz 2015. Las estrategias compensatorias de los hablantes chilenos: una ampliación acústica de la investigación de /s/ implosiva. In Normas 7: Perspectivas actuales en el análisis fónico del habla: Tradición y avances en la fonética experimental, ed. Adrián Cabedo Nebot. Pp. 373-386, 2015. Complete PDF
 
Potowski, Kim, and Mariška Bolyanatz. 2012. Reactions to (in)felicitous codeswitching: Heritage speakers vs. L2 learners. In Selected Proceedings of the 14th Hispanic Linguistics Symposium, eds. Kimberly Geeslin & Manuel Díaz-Campos. Somerville, MA: Cascadilla Press. Complete PDF