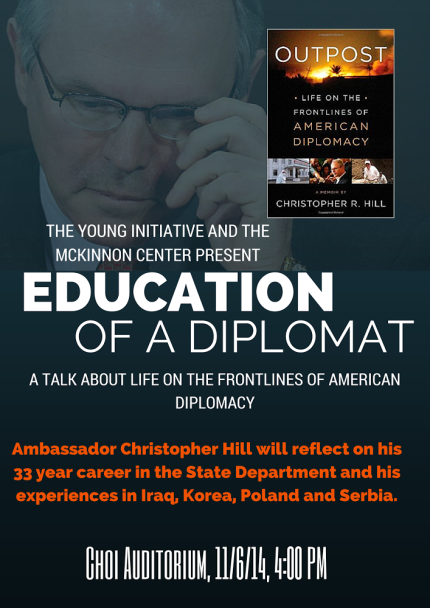 For the full video of Dr. Hill's talk, please see below. 
In his talk "Education of a Diplomat," Ambassador Hill reflected on his 33-year career in the State Department and how this experience has influenced his role as Dean of the Josef Korbel School of International Relations at the University of Denver.
His book Outpost is an "inside the room" memoir from one of our most distinguished ambassadors who—in a career of service to the country—was sent to some of the most dangerous outposts of American diplomacy. From the wars in the Balkans to the brutality of North Korea to the endless war in Iraq, this is the real life of an American diplomat.
Hill was on the front lines in the Balkans at the breakup of Yugoslavia. He takes us from one-on-one meetings with the dictator Milosevic, to Bosnia and Kosovo, to the Dayton conference, where a truce was brokered. Hill draws upon lessons learned as a Peace Corps volunteer in Cameroon early on in his career and details his prodigious experience as a US ambassador. He was the first American Ambassador to Macedonia; Ambassador to Poland, where he also served in the depth of the cold war; Ambassador to South Korea and chief disarmament negotiator in North Korea; and Hillary Clinton's hand-picked Ambassador to Iraq.
Hill's account is an adventure story of danger, loss of comrades, high stakes negotiations, and imperfect options. There are fascinating portraits of war criminals (Mladic, Karadzic), of presidents and vice presidents (Clinton, Bush and Cheney, and Obama), of Secretaries of State (Madeleine Albright, Colin Powell, Condoleezza Rice, and Hillary Clinton), of Secretary of Defense Robert Gates, and of Ambassadors Richard Holbrooke and Lawrence Eagleburger. Hill writes bluntly about the bureaucratic warfare in DC and expresses strong criticism of America's aggressive interventions and wars of choice.