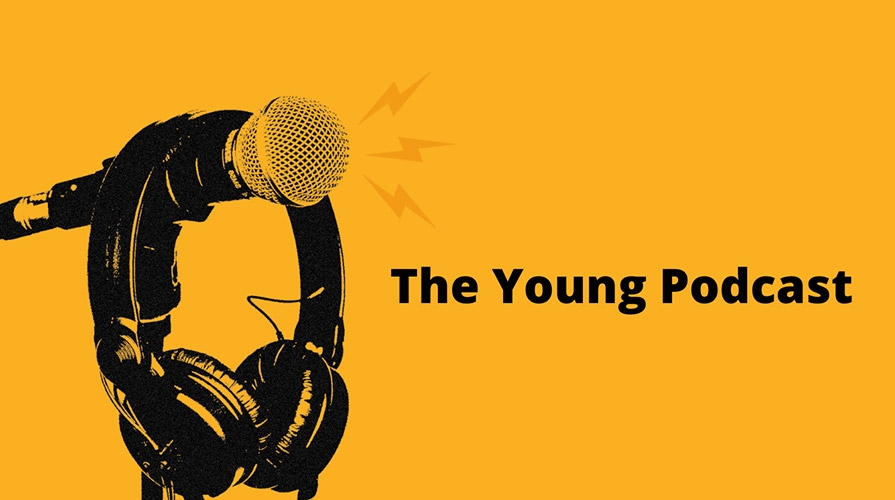 The Young Podcast engages speakers from around the world, bringing community voices, and specialists' experiences into conversation around salient political and economic topics.
Topics range from human rights, community activism, social justice, and international governance structures with each episode centered on innovative ways to approach the Global Political Economy.
Published each month, these talks will be available here for public access, supporting intellectual discourse, and welcoming all members of the Occidental College communities to engage with challenging the political and economic status quo.
Season 4, Episode 3: Professor Crawford: Transitional Justice Institution & 'Otherwise" Possibilities of Democratic Engagement
Season 4, Episode 2: Dr. Stuart Soroka: From Likes to Votes
Season 4, Episode 1: Erica Marat on the War against Ukraine and the Legacies of Russian Colonialism
Season 3, Episode 4: LGBT Rights at the UN with Sahar Moazami
Join us in conversation with Sahar Moazami, a UN program officer for Outright Action International at the UN, as they detail mechanisms for state accountability and how to promote LGBT rights on a global scale. 
Season 3, Episode 3: Art as Social Change with President Harry J. Elam Jr.
In this engaging interview, President Elam details his career in the theatrical arts, deconstructing how art can be used as a mechanism for social change and communal empowerment.
Season 3, Episode 2: Media & the United Nations with Stéphane Dujarric
Stéphane Dujarric, the current Spokesperson for the Secretary-General at the United Nations, discusses the role of the media in international politics and his career at the United Nations.
Season 3, Episode 1: LA Environmental Policy
Join us for a discussion with Megan Ross, a climate advisor for the Los Angeles Mayor's Office of Sustainability and the Natural Resources Defense Council, as she explains local environmental policy and activism in Los Angeles.
Season 2, Episode 4: Global Political Economy of Kleptocracy
Professor Igor Logvinenko speaks with Professor Nikhil Kalyanpur of the London School of Economics and Political Science. Professor Kalyanpur is one of the leading scholars on the global political economy of kleptocracy, law and global governance.
Season 2, Episode 3: Art and Memorialization as Truth-telling
Our final episode of 2021 features the voices of Emma Boast, Gail Kennard, and Hilary Malson–urban planning, art, and memorialization exper–who will highlight the crucial roles that art and memorialization, public space, and our built environment play in truth-telling processes and uplifting narratives that have been and continue to be suppressed.
Season 2, Episode 2: Truth-telling in the U.S. with Dr. David Fakunle and Mr. Allan-Charles Chipman
Dr. Favid Fakunle and Mr. Allan-Charles Chipman join the Young Podcast to discuss current truth-telling processes in the U.S. and provide their thoughts on the future of truth-telling.
Season 2, Episode 1: Truth-telling 101 with Ashley Quarcoo, Virgnie Ladisch, and Cristián Correa
Expert academics and practitioners, Ashley Quarcoo, Virginie Ladisch, and Cristián Correa discuss how truth-telling opens paths for reckoning with histories that continue to plague societies struggling with past wrongs -- from genocide to slavery to ongoing systemic violence -- and how truth-telling processes can help the U.S. reckon with its history of structural racism and ethnic discrimination.
Season 1, Episode 7: Environmental Activism with Carolina Caycedo
Carolina Caycedo, a London-born Colombian artist, whose work contributes to the construction of environmental historical memory, human rights, and environmental justice.
Seaon 1, Episode 6: International Relations & Human Rights with Cynthia Rothschild 
Cynthia Rothschild, the current faculty director of Oxy-at-the-U.N program, discusses her UN advocacy and policy work, which has included LGBTI issues, women's rights, religious fundamentalisms, and HIV & AIDS.
Season 1, Episode 5: International Security & Social Movements with Professor Phillip Ayoub
Professor Phillip Ayoub, a current faculty member in the Diplomacy & World Affairs Department at Occidental College and fellow at the Hertie Center for International Security discusses his work on sexuality and gender, norm diffusion, and the study of social movements.
Season 1 Episode 4: Global Political Economy in the Age of COVID with Igor Logvinenko
Professor Igor Logvinenko, an Associate Professor of Diplomacy and World Affairs and an affiliate of the John Parke Young Initiative at Occidental College, discusses his work in the field of Global Political Economy in Russian and Eurasian Politics.
Season 1, Episode 3: Global Political Economy in the Age of COVID with Kim Todd
Kim Todd, the current manager of international programs and events for the Northern California World Trade Center in Sacramento, discusses her work coordinating professional international exchanges through the U.S. State Department's International Visitor Leadership Program.
Season 1, Episode 2: Art as Activism with Alberto Lule
Alberto Lule, a current undergraduate art student at UCLA, discusses his recent collaborations with Oxy Arts and his work around deconstructing conceptions of the United States' prison industrial complex, immigration, drug addiction, and mental health.
Season 1, Episode 1: Art as Activism with the Cornerstone Theater Company
Members of the local Cornerstone Theatre Company discuss their pioneering model of theater that utilizes community-based, peer-to-peer engagement methods to drive social change in communities across the nation.