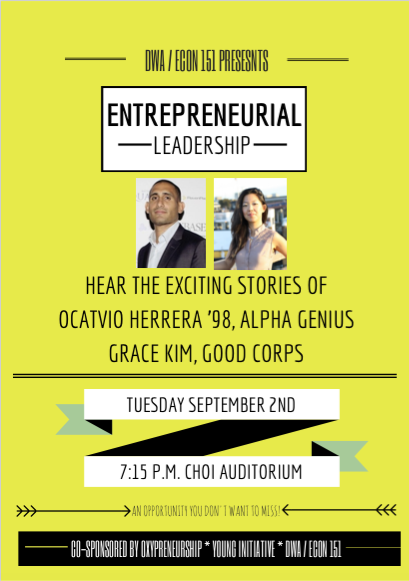 The Young Initiative is excited to welcome Octavio Herrera and Grace Kim to DWA 151: Entrepreneurial Leadership. These two successful, but very different entrepreneurs, will speak about their journey and what it took to get there.
Octavio Herrera is the Co-founder and Manager at AlphaGenius. AlphaGenius is a quantitative hedge fund that was founded in 2010 and began trading in 2011. As of June 2014 AlphaGenius has annualized returns of 14.3% with a Sharpe ratio of 1.1 and a Beta of -0.08.
He Co-founded Jirbo, Inc in 2008. Jirbo was one of the first iPhone gaming companies and has some of the most downloaded iPhone games in the world. A majority stake in Jirbo was sold to Insight Venture Partners in 2010. Jirbo changed its name to AdColony and transitioned from gaming to one of the largest mobile video ad networks. AdColony sold to Opera Mediaworks in 2014 for $350 million
Octavio also founded MediaDefender in Summer of 2000 during the heyday of Napster. Built MediaDefender to the largest online anti-piracy software company in the world. Sold MediaDefender in 2005 for $42.5 million.
Grace Kim collaborates with pragmatic idealists to design effective and creative solutions for social impact.
As part of the founding team of GOOD/Corps, a social innovation consultancy, she has partnered with visionary CEOs and foundation leaders, start-up entrepreneurs and civic leaders to design strategic initiatives for STEM education, polio eradication, entrepreneurship, civic engagement and web literacy.
In her free time, she advises early stage social innovation start-ups and social enterprises. she co-produces Idea Project, an LA-based organization that cultivates community around multi-disciplinary collaboration and social innovation. Previously, she managed domestic build and poverty housing awareness programs for Habitat for Humanity International and taught Business English skills for the French Embassy after pursuing international relations at Institut d'Etudes Politiques, Paris.
Grace is a UCLA Anderson Riordan Fellow, aFormer Rotary Foundation cultural ambassador for Central America, and a Former Board of Directors for Zocalo Public Square, a non-profit organization that builds community by broadening access to civic discourse.