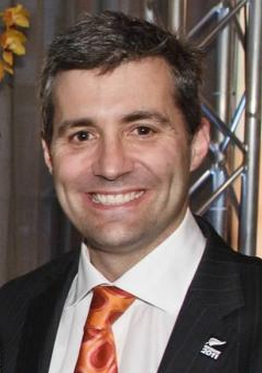 Leon took up the role of New Zealand Consul General Los Angeles in June 2012. His career in the private sector as a business owner and entrepreneur was interrupted in 2009 when he was asked to establish the New Zealand 2011 Office which was responsible for the leverage and legacy programme delivered for Rugby World Cup 2011. That Office was established within Ministry of Economic Development working to Neville Harris, the Government's lead official for the Rugby World Cup. The Office included, at peak, over 40 employees, government agency secondees and contractors and it successfully delivered the business engagement, showcase, festival and community engagement programmes for the Tournament.
Prior to that, Leon's diverse business career has been in public affairs, marketing, overseas investment facilitation and start-up businesses. In 1995 he established one of Wellington's leading public affairs and investor relations companies, Busby Ramshaw Grice Ltd. Leon assisted Canadian, US and Australian business to invest in New Zealand forestry, electricity generation and distribution and oil and gas industries. In 2000 he established an entrepreneurial business that created a number of start-ups including the successful out-of-home digital media business Twenty4media Ltd.
He has strong experience building new teams and restructuring companies and assisted Te Ohu Kai Moana (Maori Fisheries Commission) to create Aotearoa Fisheries Limited which now owns Sealords, Moana Pacific and Prepared Foods. Most recently he assisted the Canterbury Earthquake Recovery Authority to build the new Christchurch Central Development Unit led by Warwick Isaacs.
Leon has a Bachelor Arts Honours (First Class) from Canterbury University in history, international relations and political science. He is married to Lisa and has two children, Conor and Frances.