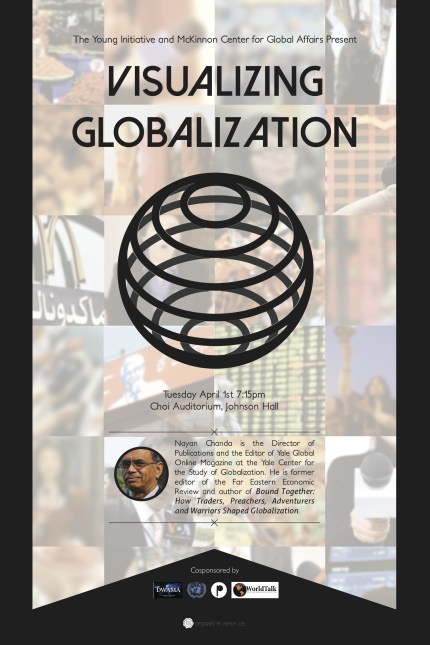 Nayan Chanda visited campus today to give a talk entitled "Visualizing Globalization." Nayan Chanda is the Director of Publications and the Editor of Yale Global Online Magazine at the Yale Center for the Study of Globalization. For nearly thirty years before he joined Yale University Chanda was with the Hong Kong-based magazine the Far Eastern Economic Review as its editor, editor-at-large and correspondent. In 1989-90 Chanda was a Senior Fellow at the Carnegie Endowment for International Peace in Washington. From 1990-1992 Chanda was editor of the Asian Wall Street Journal Weekly, published from New York.
He is the author of Brother Enemy: The War After the War and co-author of over a dozen books on Asian politics, security and foreign policy including Soldiers and Stability in Southeast Asia and The Political Economy of Foreign Policy In Southeast Asia. His most recent book is The Age of Terror: America and the World After September 11, which he co-edited with Strobe Talbott. He is the recipient of the Shorenstein Award for 2005. The Award honors a journalist not only for a distinguished body of work, but also for the particular way it has helped an American audience understand the complexities of Asia. It is presented jointly by the Shorenstein Forum at Stanford and the Shorenstein Center on the Press, Politics, and Public Policy at Harvard University.
He is a frequent contributor to the opinion page of the International Herald Tribune and is a member of the Advisory Council for the Center for Northeast Asian Policy Studies at the Brookings Institution.