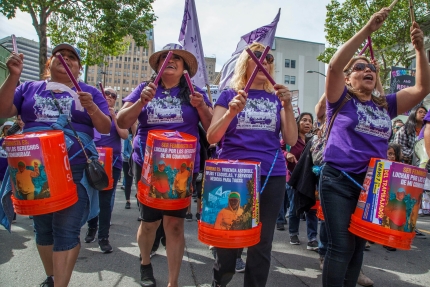 A course on how immigrant and refugee health histories help us understand the development of health injustices and imagine migrant healthcare and healing for our times.
HIST/LLAS 259: Health on the Move: Immigrant and Refugee Resilience
4 units
Students enrolled in this course will meet the US Diversity Core Program requirement
Taught by Prof. Puerto
This course traces the intersection of U.S. migration and health histories from the late nineteenth century to the present. The course will be organized around historical case studies focused on the following topics:
Medical inspection and quarantine from Ellis and Angel Islands to the U.S.-Mexico border to contemporary detention centers
Race and early twentieth epidemics in major cities
War and mental health of refugees and detainees in the World War II and Cold War eras
Farm worker health and environmental justice movements since the 1960s
Maternal health and reproductive rights since the 1960s
HIV positive refugees and carceral containment
Mutual aid during the COVID-19 crisis
Taken together, students will discern how migration serves as a determinant of health, and also learn about migrant resilience despite structural violence. The themes of medical racism and scapegoating, contagion narratives, occupational health, health activism, cross-cultural health communication, and medical citizenship will anchor course units. With particular attention to the analytical categories of race, ethnicity, gender, sexuality, and class, the course posits that history can make a critical contribution to our understanding of health inequities and to the development of migrant health justice. Students will gain skills in archival research, oral history methodologies, digital storytelling, and community-based engagement.  
Students in the course will participate in a social justice project.
Questions? Contact Prof. Puerto at apuerto@oxy.edu
IMAGE: A Mujeres Unidas y Activas (MUA) street performance and march in Oakland, CA, 2021, as part of Y Basta Ya! (Enough!), an ongoing collaborative project initiated by NAKA Dance Theater to highlight stories of Indigenous and Latine immigrant women. Photo by photojournalist, author, political activist, and union organizer, David Bacon.