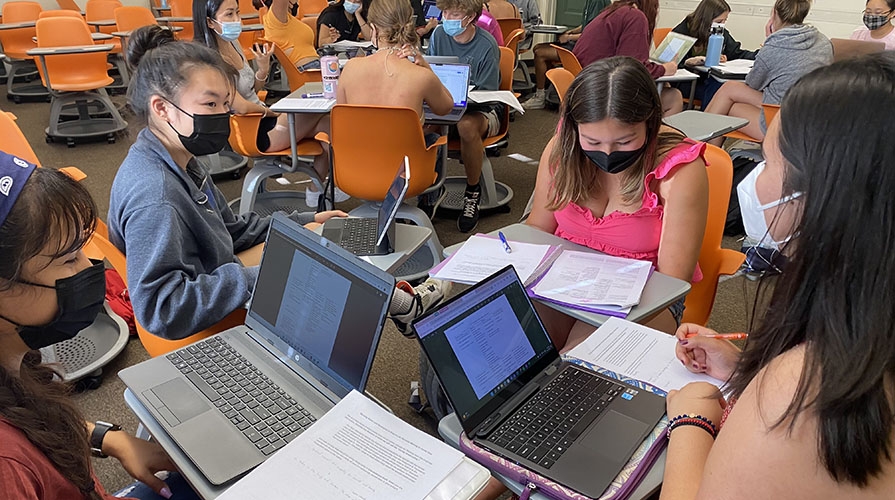 Core 101: Migration, Displacement, and Cultural Resilience
July 10-August 4, 2023
Open to all incoming Oxy frosh 
FREE —all tuition costs & course materials covered by the Mellon Humanities for Just Communities grant
Course Description
In summer 2023, the HJC summer virtual course will introduce students to the range of ways Humanities disciplines—including Black Studies, History, Media Arts & Culture, Spanish, and Religious Studies—study the migration and displacement of people. Equipped with analytical frames from these fields, students will explore:
How perceptions of communities--including immigrants--are inextricably tied to language;
How and why food has shaped the collective experiences and identities of migrant communities, and formed the basis of migrant rights projects in California;
The complex connected histories of Asian migration with histories of slavery, emancipation, and exclusion in the United States and globally; 
The exploration of the concept of "alien" and the word's curious doubleness in relation to extraterrestrial creatures and foreigners; and
The ways in which ancient Jewish communities' history of displacement is the key to understanding their identity, their relationship with their G-d, and their persistent hope and expectation for liberation; and  
How centering the experience of migration in African American history challenges common assumptions about Black life and culture in the United States.
Enrolling in the summer course is a way for you to get to know other Oxy frosh before arriving on campus and to earn 1-unit toward your Oxy degree for FREE!
Course Structure
The course will be divided into 8 "modules," 2 per week. Each module will be focused on a different topic and taught by a different faculty member. For each module, students will watch a recorded lecture, complete an assigned reading, write an initial response to the lecture/reading, and engage in a virtual discussion group with the faculty member and classmates. 
Students will need access to the internet in order to stream the lectures and to participate in virtual discussion groups twice a week.
Course Requirements
Students will earn a "Credit" grade for a 1-unit elective if they complete all of the following: 
Complete all of the components of at least 7 of the modules (which include: watching the lecture, completing the reading, writing a portfolio entry, attend the discussion group)

portfolio entries must meet the specifications of the portfolio guide and be completed by the deadline

Complete a social media assignments
NOTE: We understand that students might experience a personal emergency, scheduling conflict, etc. that makes it impossible to complete  all of the work for the summer course. For this reason, you are allowed to skip one module and still earn credit for the course. Additionally, with advance approval, you may attend a different discussion group on a limited basis. That said, we cannot offer any additional flexibility or accommodations given the workload expectations tied to an Oxy course credit, and given that there are too many students in the course to make it feasible for the instructors and peer mentors to create make-up assignments or hold make-up discussion groups.
Interested?