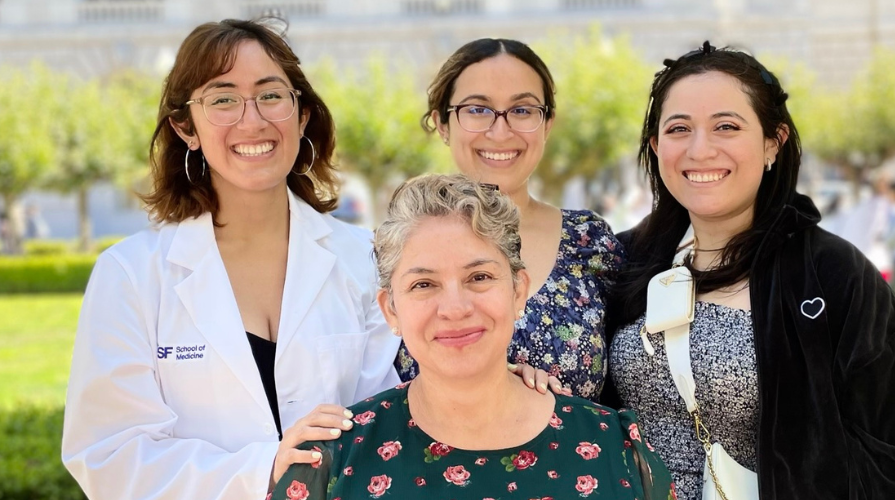 Major: Biology
Destination: University of California, San Francisco, School of Medicine, M.D. Candidate '26
Dafna Erana Hernandez (she/her)
What advice do you have for prospective or current Oxy students? 
Keep your end goal in mind always!! When you start feeling discouraged, remember why you are doing this and why you want to pursue this path. Don't be afraid to ask for help and don't isolate yourself. Seek out a support system/community that supports you and enriches your life in all aspects. Be willing to take risks and put yourself out there. Advocate for yourself.
What advice do you have for recent graduates from Oxy or for those in a gap/growth year?
Some people take gap years because they have to (e.g., take prerequisites, fill gaps in application), while others take growth years because they want to. Take a good, strong look at your application and see if you have any gaps you have to fill. If you'd do a lot of clinical work or volunteering in college, then now's the time to do it.
REST. Take a deep breath and RELAX. If you just finished undergrad, that's a big deal! While it's important to do something during your gap year (whether that's travel, research, volunteer, etc), I also think you should take advantage of the time you have to rest before going for another 4 years of medical school!
Find something you are passionate about or that is unique. During interviews I was often asked what I was doing during my gap year. I was glad to share details about my work and volunteering, but also to talk about my hobbies and things i became interested in during the time off. The time "off" builds character!
Why did you choose UC San Francisco School of Medicine?
UCSF has it all! There's a wealth (nearly incomparable) of opportunities - from research to educational to service work to mentorship opportunities. UCSF has a diverse student body, faculty, and staff. Financial aid - As a California citizen and applicant, this school gave me the best financial aid out of all schools that I got into. P/F grading system. This lifts a huge burden off of your shoulders, allows you to have a life outside of school and engage in non-academic opportunities/travel. Finally, as someone who wasn't (and still isn't) sure about what what specialty they want(ed) to go into, being at a school with such a robust program, the opportunities allow me to explore different specialties through shadowing and other events/programs even before I begin clinical rotations.
San Francisco is just a lovely city! Location and ability to work with the population I hope to serve in the future (low income, Latinx/Hispanic, documented/undocumented immigrants, uninsured/underinsured).